The contents of this article are drawn from the AFP's News
Mobility Innovation transforming society from the ground up
March 15, 2018
Faster and further. Ever since humans began to walk upright, we have been chasing after speed. In January 2017 the U.S. based startup company Hyperloop Transportation Technologies (HTT) announced that it would begin a preliminary study of the feasibility of connecting the city of Brno in the Czech Republic with Bratislava, the capital of Slovakia, via a 'Hyperloop', a cutting-edge high-speed transportation system. In a Hyperloop, passengers board capsules reaching speeds of 1,200 km/h while speeding on rails in a decompressed cylinder. One proponent of this vision is Elon Musk, CEO of the electric car manufacturer Tesla and the aerospace development company SpaceX.
Today, however, speed is not the only or even most important on the transportation agenda everywhere. In some countries such as Japan, the shift to a low-birth rapidly aging society has brought with it a range of new transportation issues, including the decline of public transportation, traffic accidents and congestion. Needed here is not more speed, but rather the wisdom to safely and securely manage towns and roadways. Drawing on case studies from several European countries, let's consider the future from the perspective of town and transportation planning.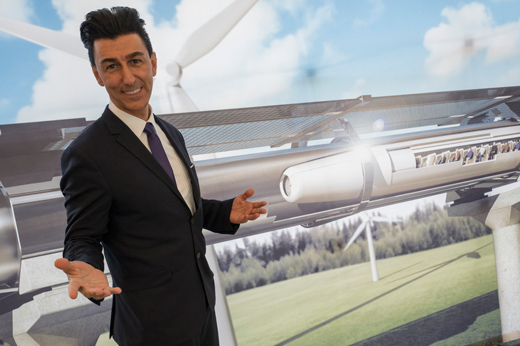 Regional revitalization and mobility
In the 1970-80s, cities in France and many other European counties were grappling with issues of deindustrialization and aging. During the 20th century, the mass production of automobiles invigorated economies and enriched daily life by allowing citizens to travel freely and conveniently. However, automobiles also emit large amounts of CO2 and the energy used by automobiles became a major component of household energy consumption. Automobiles are also spatially inefficient, demanding a much larger footprint than other forms of transport. Although spatially inefficient auto-centric urban development was the norm for much of the 20th century, in recent years, priority has been placed on people and the environment.
Looking back at the history of local transportation in Europe and North America, we find that transportation policies have been developed to meet the changing needs of subsequent eras. Both the garden city movement of Ebenezer Howard, published in England at the end of the 19th century, as well as the Radburn principle, based on neighborhood theory and developed in the US in the early 20th century, sought to separate passengers and vehicles. Later in the 20th century, transportation planning began to prioritize pedestrians and the reduction of automobile traffic – for example the German traffic cell system in the 1960s, the Swedish zone system in the 1970s, and the "woonerf" living streets principle in the Netherlands and 30 km/h in Germany in the 1980s. Each of these plans aimed to integrate passenger and vehicular traffic.
Until the 1970s, France was a highly centralized bureaucratic state. However, social reforms in the 1980s led to the establishment of LOTI (Loi d'orientation des transports intérieurs) and, subsequently, streetcars, which had been nearly eliminated from cities by the centralized policies of the 1960s, were reintroduced as modern trams. This occurred first in Nantes in 1985, again in Strasbourg in 1989, and then a rapid pace in cities around the country in following years. Whereas the number of cities with trams had declined from a high of 48 to a low of only 3, at present they can be found in 30 cities.
How does the reintroduction of trams transform a city? To be sure, unique and elaborate trams, on one hand, become the 'face' of a city, but that is not their most important contribution. The biggest impact that trams have on cities is that they increase the number of pedestrians and, in turn, make the city more vibrant. Trams, which run at high speeds on special rails in the suburbs and on city streets in downtown areas, provide a convenient way to directly link city center and urban periphery. The shopping streets around the station are transformed into a transportation hub that inserts vibrancy into the urban fabric. In the case of French trams, it is also convenient to transfer between car and tram at the parking lots adjacent to tram stations. Trams and buses are also well coordinated, fares inexpensive and services well provisioned. By combining these various features, trams become an attractive form of transport that can compete with personal automobiles and people are successfully attracted to the city center.
The reintroduction of trams is not limited to France. Across Europe the benefits of streetcars have been rediscovered and many have now been modernized as light rail transit (LRT). In Japan too, urban planning based on next generation streetcars and LRT has also drawn attention. In Matsuyama, the capital of Ehime Prefecture, a streetcar that survived the 'motorization' policies of the 1960s was reborn in 2001 as Botchan – a name drawn from a well-known novel set in Matsuyama. This tram, which connects the popular tourist area around Dogo hot springs with the downtown area around Matsuyama Station, has become much loved by tourists.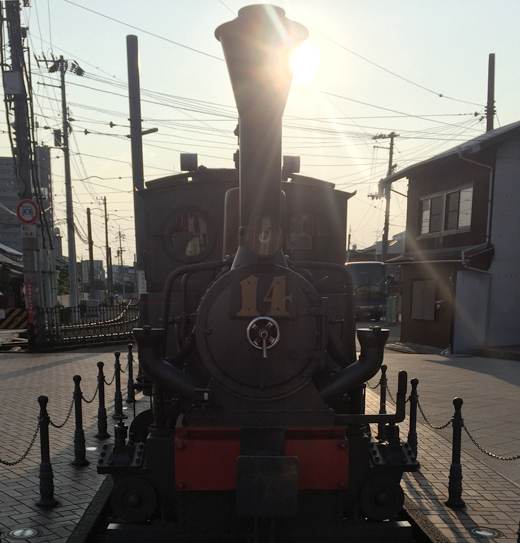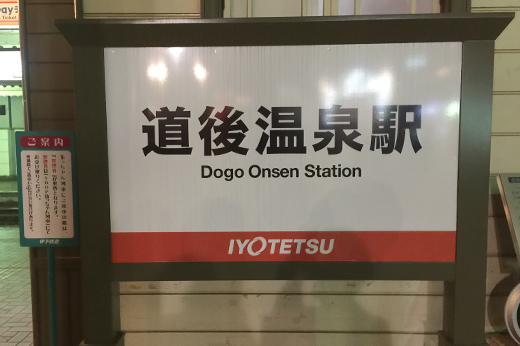 The diversification of new urban transportation
Japan today faces transportation problems similar to those faced by many European countries in the 1980s. In Europe, the profit-oriented nature of transportation systems driven caused many of the issues, and the available public services did not meet the needs of groups such as the economically burdened, the elderly or children. To avoid this situation, what is desired in Japan today is to satisfy diversifying needs by creating multimodal transportation policies.
Through a collaboration between the city of London and Oxford University, a multi-modal transportation model was established for the 2012 Olympics. It included such features as low-carbon emission vehicles, alternative fuels, charging systems, public transportation services, walking and bicycles. In France, in addition to the above-mentioned reintroduction of trams, policies promoting buses, BRT, community cycles, cars and ultra-compact PM (Personal Mobility) have been combined to promote urban planning based on a seamless transportation system. BRT is a rapid transport bus system, a mass-transit system based on buses. In France, this system is known as BHNS (translated into English, 'new high class service'), and it has drawn much attention as a next generation transportation system.
Community cycles are drawing attention as a form transport that complements existing systems and public transport for personal use. In Germany, a bicycle highway opened last year. It has been well received as a measure both to resolve issues of urban congestion and pollution and as a means to enable 9-to-5 workers to commute by bicycle. Such bicycle highways have been pioneered by the Netherlands and Denmark. In Germany, there are plans to build bicycle highways in the financial center of Frankfurt, the Bavarian capital of Munich as well as Nuremberg. The German capital of Berlin has also decided to implement a preliminary study.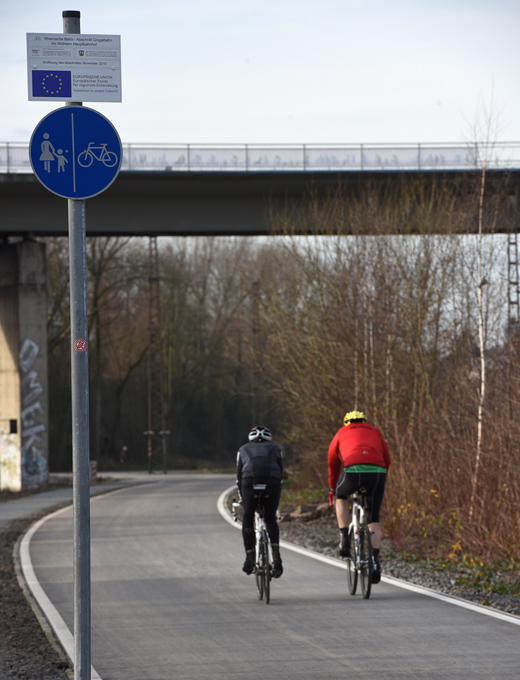 In Helsinki, the capital of Finland and one of the greenest cities in Europe, efforts are being made to conserve the green open space that occupies 47% of the city. Urban planning authorities are developing plans to decrease the number of cars to reduce carbon dioxide emissions. Although cars will never be banned, due to new public transportation facilities, the location of stores, schools and other services within walking distance and the provision of green space, it is possible that cars may become unnecessary for citizens. In addition, to meet the needs of individuals who must commute long distances to work, there are also plans to enhance subways, streetcars and other public transportation facilities.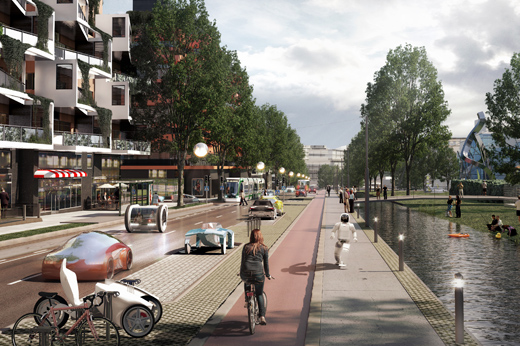 ICT to support safe and secure movement
Is it possible to transform society from the ground up by using cutting-edge technologies such as internet of things, big data, artificial intelligence, and robot sensors to resolve transportation issues? Moreover, can we create a next-generation road system using cutting-edge technologies which realize congestion relief and road billing that would also be safe, secure and tailored to the needs of diverse people? Is it possible that optimizing transportation systems would also increase repeat visits by tourists and make regional distribution networks more efficient?
Examples currently being implemented include white line detection technology supporting automatic driving, one click on-demand cell phone bus hailing public transportation services and, in Europe, a service that would allow trams to avoid stopping at signals, thus providing a virtually non-stop ride. If buses and traffic signals are connected by communications technologies, signal controls can be operated by a bus driver, all thanks to sensor networks installed on the streets and vehicles.
In January of 2017, a first test run was conducted of a driverless bus in Paris. Lasers and cameras make it possible for this bus to detect obstacles and pedestrians. Elisabeth Borne of the Autonomous Operator of Parisian Transports predicts that someday such buses will connect homes and stations.