The contents of this article are drawn from the AFP's News
Peace Tech – ICT for Peace
March 15, 2018
Peace Tech – a movement aiming to use ICT to create a more peaceful world – continues to gain traction around the globe. It has been spread by people motivated by a global vision of using business to achieve peace and justice for all the people of the world. Let's look at several examples of Peace Tech to discover its future potential.
Using ICT to analyze and prevent conflicts
Peace Tech can be defined as using science, technology and ICT to eliminate war and poverty and resolve various social issues. It's similar to the concept of "positive peace" advocated by Johan Galtung, a Norwegian sociologist, mathematician and founder of peace studies. It doesn't aim simply for a war-free world (i.e. negative peace) but is rather a proactive movement for true peace, a concrete set of strategies for building a world free of the structural violence of poverty, oppression and discrimination. Towards that end, it is imperative that the leaders who will utilize the supranational political, economic and social tool that is the Internet, and promote transparency and bi-directionality, come out of the conflict-ridden and poorer nations of the world. An urgent matter, therefore, is to develop ICT infrastructure and train human resources in these areas. It is in fact these urgent needs that have spurred the launch of the Peace Tech movement.
Conflicts in Africa in recent years offer excellent lessons about how Peace Tech can be put into practice. These struggles have been frequently caused by, among other factors, collapsing prices for agricultural products caused by unseasonable weather or by the buying up of food products by large food conglomerates. Given these causes, one potential solution would be to proactively prevent such conflict by stabilizing the economy. This could be accomplished by utilizing ICT to manage farm production and establish networks between farmers and consumers in developed countries.
At PeaceTech Lab, a research center located in Washington D.C. (USA), researchers are developing means to reduce conflicts around the world by pursuing research synthesizing the overlapping fields of technology, media and data. ICT professionals collaborate closely with experts in the fields of conflict management as well as stakeholders from conflict-ridden areas to invent, develop and eventually deploy new tools for preventing and eliminating conflicts. In addition, they also hold PeaceTech Exchanges, workshops that support peace-building in conflict-ridden areas using low-cost, convenient technologies.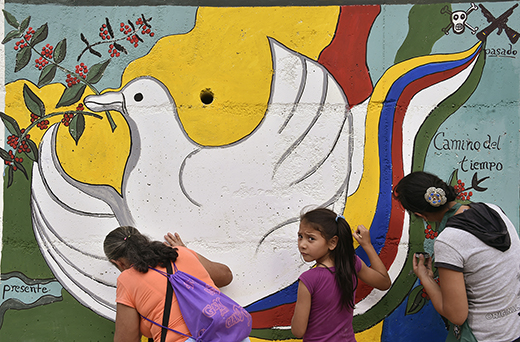 Eliminating inequality through improved IT literacy
The spread of the internet and the growing availability of technologies enabling individuals to communicate quickly and inexpensively have been major factors in the increasing demands of people around the world for liberty and for several triumphs of democracy over dictatorship.
In March of 2017, the domain name ".africa" was introduced by the African Union (AU). Some three decades after the first domain name (i.e. ".com") was unveiled, it can be said that Africa has finally established its own unique and pan-African digital identity. According to the World Bank, the internet diffusion rate of sub-Saharan Africa is only 22%, quite low compared with a worldwide average of 44%. The AU has announced that it aims to increase the diffusion rate of broadband internet 10% by next year. One of the factors that has prevented expanded internet usage in Africa is the high cost of acquiring a domain name, which in some countries on the continent can cost up to $250. Since the ".africa" domain name can be acquired by anyone living on the African continent for only $18, we can anticipate that it will help to connect Africans and African companies with the rest of the world.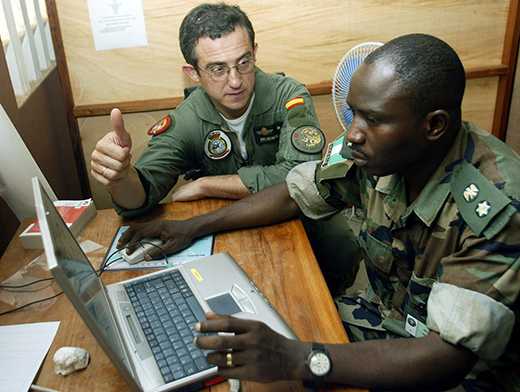 It's also necessary to develop ICT infrastructure and human resources in order for world leaders in the application of ICT to social issues to come from conflict-ridden areas and the poorer nations of the world.
There are several Japanese organizations currently helping to lay this groundwork. They are putting Peace Tech into practice by delivering ICT education to areas having problems with conflict and poverty. The NPO Edo Tec Global, one such organization, operates under the mission of "realizing world peace through information technology." This group is currently implementing pilot programs at elementary schools in Rwanda and at universities in Rwanda and Jordan. These programs not only teach cutting-edge ICT fields (e.g. blockchain and distributed processing, data science, augmented/virtual reality, and drones and robotics), but also provide on-the-job-training (OJT). By providing educational instruction aimed at resolving pressing social issues, these programs aim to cultivate the ambition to utilize science and technology for the betterment of humanity. For students, participation in such programs is, of course, also motivated by the more immediate aim of securing employment.
Agriculture, education, energy, finance – these are only some of the numerous fields wherein tremendous potential to utilize ICT to reduce poverty exists. Raising ICT literacy also holds potential to reduce social inequalities, first and foremost gender-based inequalities. In July 2017, at "FIRST Global Challenge" international robotics games held in Washington D.C., a group of teenage girls from Afghanistan competed well and sent a strong message back to their home country, a nation that currently ranks 152 out of 155 countries on the gender inequality index. Due to the Trump Administration's proclamation of strict visa policies for predominantly Muslim nations, these Afghan girls' visa applications were initially denied twice, causing an uproar in global media. In the end, though, they were issued visas and allowed to participate in the competition, alongside fellow competitors from Iran, Sudan and a team of refugees from war-torn Syria.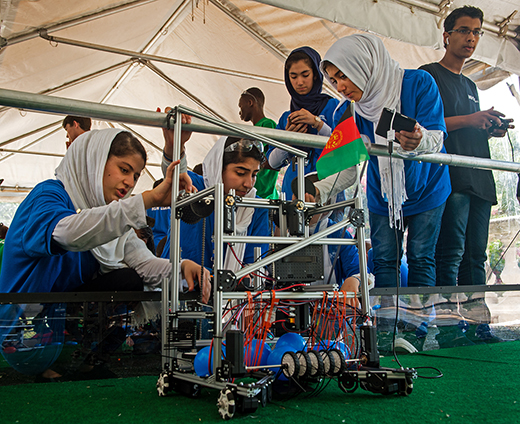 Ringing the bells of peace from Japan to the world
Through the support of the Japan International Cooperation Agency (JICA) and other organizations, the Egypt-Japan University of Science and Technology was established in 2010. In September 2017, a new engineering department focused on telecommunications and a new International business humanities department concentrating on accounting and IT were established. Both departments would be cutting-edge, top-tier institutions in the country, and both would also utilize Japanese-style engineering education based on low student-teacher ratios and practical pedagogy. From the perspective of the Japanese participants in this endeavor, one of these new departments' aims is of course to educate individuals who can meet the human resource needs of global companies. However, special attention should also be paid to the fact that these new departments are the first to introduce the field of Peace Studies into Egypt. Peace Studies focuses on issues such as disarmament, abolition of nuclear weapons, and poverty, and has been pursued in collaboration with Hiroshima University, an institution recognized as the leader in this field. One important motivation for these collaborative efforts is that high unemployment rates for individuals graduating from even elite Egyptian universities has been highlighted as one cause of religious extremism.
September 21 is the International Day of Peace. On this day, Japan's peace bells are rung at the UN Building in New York. On the same day, people hoping for peace from around the world gathered in Yokohama to participate in the 7th United for Peace Film Festival, an event where people from different cultures learn about one another through films and make connections that transcend nations. We should hope that Japan's top level science and technology expertise in fields such as environment, energy efficiency and ICT will be shared with the rest of the world and that they will be utilized in ways that will eradicate inequality as well.