Accelerating the evolution of customer experience through technology
May 16, 2018
According to Gartner, customer experience (CX) has been a top priority of CEOs, CIOs and CMOs for the past five years. Also, according to the "10 Predictions for CX Leaders"*1 published by Gartner in February this year:
By 2022, two-thirds of CX projects will be using IT,
By 2020, more than 40% of data analytics projects will be related to CX aspects,
By 2020, 25% of customer service and support operations will be using virtual assistants.
The first prediction has been revised up from last year's "50%" prediction. The key to CX is IT and data. As the number of digital channels increase, personal interactions are bound to decrease.
However, despite the recent unprecedented emphasis on CX and considerable investments made by companies in technologies and trainings to improve CX, Oracle's Chief Evangelist, Des Cahill, noted during his keynote speech at the Modern Customer Experience (MCX) 2018 that "This year, CX performance for many organizations will actually hit a wall and decline in quality."*2 Why? This is because companies have not been able to surpass customers' expectations; what has been achieved is not enough. Customers use their own high level of experience as the standard. "The bar of customer's expectations keeps getting raised by competition and innovative companies." (Des Cahill)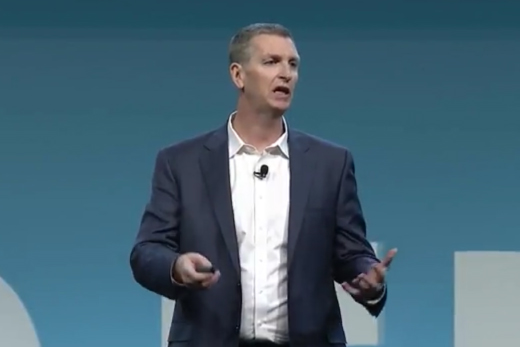 Customer Experience Fair: MCX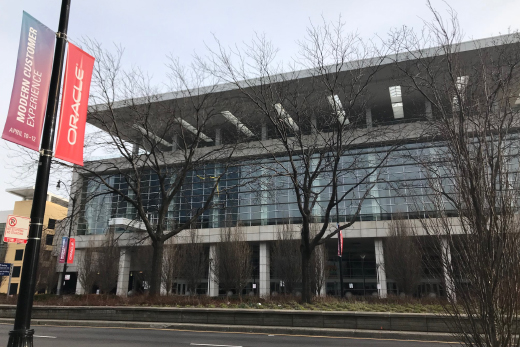 For three days from April 10 to 12, more than 5000 CX experts and marketers from around the world gathered at Chicago's McCormick Place to attend the MCX customer experience fair, which featured 300 sessions, the Markie Awards (on its 12th year), and exhibits from 65 partner companies, among other events. The venue was located around 5 kilometers south of central Chicago, in a suburb similar to Makuhari.
Unfortunately this year, Oracle CEO Mark Hurd, who impressed the audience with his powerful speech last year, could not make it due to influenza. Amid the dizzying pace by which technology trends are changing—blockchain, AI, IoT, AR/VR, chatbot, etc., the same issues crop up every year—siloing of data, collaboration between marketing and sales, etc. In addition, more focus has been directed at innovative solutions and use cases, further heightening expectations for technology. Sessions on AI were popular this year. There were also a few sessions on GDPR*3, which will be enforced at the end of this month and has drawn the interest of marketers recently.
Evolving MCX
We asked Catherine Blackmore (Group Vice President for Customer Success, Oracle), who had just finished giving her keynote speech as one of the organizers of this event, regarding the objectives of MCX.
"MCX is growing in scale and in number of visitors every year. It is creating an ecosystem for customers, partners, analysts, and other players. I think the main reason why companies come to the MCX is they want to give careful thought about what kind of company they need to become.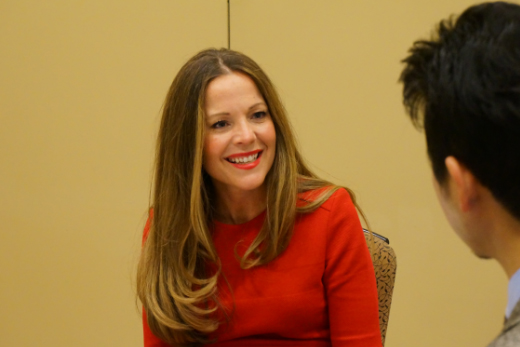 They want to figure out how to turn customers into fans of their products, what kind of services they should offer, and what kind of technologies they should deploy to offer those services. They are looking for relevant use cases that will provide hints on what strategies are needed to create CX that takes those issues into consideration. MCX has become an important venue where people from around the world gather to learn about these topics." MCX provides a unique, open atmosphere that elicits enthusiasm from participants, wherein they inspire and stimulate each other to transform their business.
The new CX Heroes Program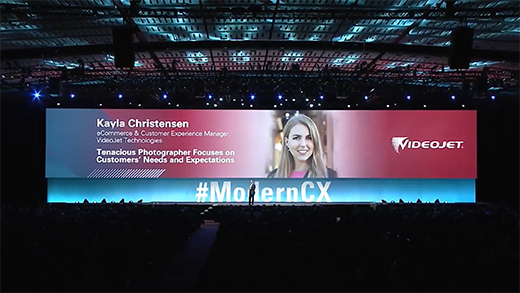 New this year is the CX Heroes Program that recognizes individuals making exemplary contributions to CX. Ms. Blackmore, who is also in-charge of this program explained, "New technologies are completely changing people's lifestyles and raising standards in all areas. It has become more and more difficult to continually meet customer expectations. We therefore wanted to salute the people within organizations who are working hard every day to provide a better CX, as "CX Heroes"." Since this program is sponsored by Oracle, a major ICT enterprise, technology is a big factor in selection. She emphasized, however, that technology is only a means, and people are the ones who create the excellent experience. Several CX Heroes were introduced in the keynote speech of Des Cahill.
Off-topic, there were therapy dogs in the venue! Therapy dogs not only make people feel better, but they are also sent to hospitals and rehab facilities to actually help people get better. The participants, who go through strong pressure at work everyday, lightened up as they petted the dogs. There were also morning yoga sessions, massage booths, and other special treats for visitors within the venue—which reflect the sponsor's desire to provide a high level of CX to participants.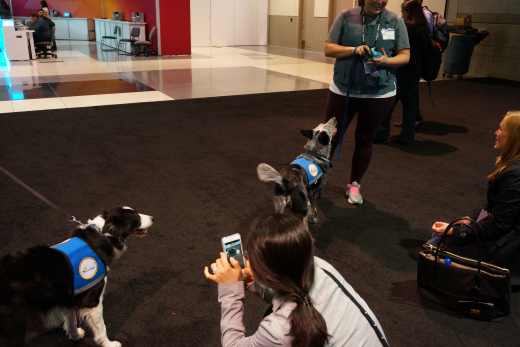 Markie Awards: a symbol of high CX achievement
This year marked the 12th year of the Markie Awards, which have now become a shining symbol of success in CX.
"It's really amazing! Twelve years ago, the Markie Awards started from a concept to revitalize the marketing industry; who would have thought we would come this far? Many organizations from around the world have shown great interest in the award, and winners have gained special respect among their peers.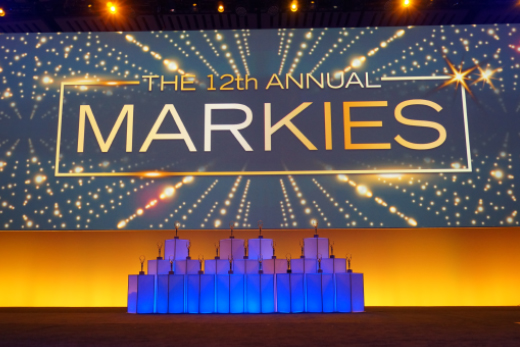 The Markie Awards aim to highlight organizations that have succeeded in formulating strategies and implementing them to transform their business, and show the world that transformation can be accomplished. The Award inspires people that they, too, can do it. The event is a great opportunity for networking and fosters a community where one can learn from others going through the same problems," explained Ms. Blackmore.
"One winner claimed that, "My life changed after receiving the Markie!" Becoming a Markie Awards winner brightens up a person's job and career prospects and changes how he or she is viewed within his or her organization. This is because the award signifies true success. Since participants continually grow and become more sophisticated, and market values change, we try to come up with the best possible categories and criteria for the awards every year. We also value feedback from the audience and from participating companies." (Catherine Blackmore)
NEC nominated for the Markie Awards for the second straight year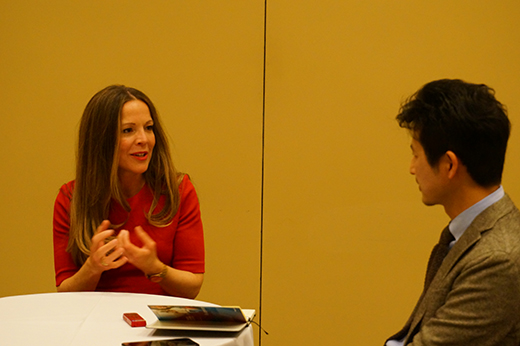 NEC became the first Japanese company nominated for the Markie Awards last year. This year also, NEC was again nominated for the ABM*4 Award. Although NEC had higher expectations for winning, unfortunately, it was not able to bring home what would have been the first Markie Award for a Japanese company.
"Just to be nominated is a great honor since you were chosen from among 3000 entries. Please try again next year," said Ms. Blackmore in praise of NEC's achievement.
In the 10 predictions by Gartner mentioned at the beginning, they claimed that by 2020, 30% of all B2B enterprises will use AI for their main marketing processes, pointing to the possibility of reaching a maximum of 30% increase in conversion rate for engagement with potential customers and leads. NEC submitted an entry to the Markie this year based on a customer case for achieving a four-times increase in conversion rate after introducing NEC's AI solution in project scoring for account management operations.
AI will be playing a critical role in marketing and sales through the analysis and prediction of a large volume of leads and projects. A survey has reported that the intention to deploy AI is highest (46%) in marketing and sales*5. In the future, AI is expected to create a concrete impact on sales and profits and contribute to achieving breakthroughs in customer experience.
The CX expectation bar which is raised by technology should be jumped over by technology. But we'd better focus not on technology but on people. We are apt to expect too much of AI technology. If we don't consider that, we will fail to utilize it. Ms. Blackmore gave Japanese companies the thankful massage at the end of the interview, "Giving your best efforts to be CX HERO will yield results".
(Written by: Yukiomi Kawasaki; Photos by: Chika Yamami)
*1: Gartner Japan Press Release: "10 Predictions for Customer Experience Leaders" (2018.2.19) (In Japanese) https://www.gartner.co.jp/press/html/pr20180219-01.html
*2: https://go.forrester.com/2018-predictions/?utm_source=forrester_blog&utm_medium=social&utm_campaign=predictions_2018
*3: General Data Protection Regulation (EU regulation on general data protection)
*4: Account Based Marketing of the Year Award
*5: Forrester's "Q2 2016 Global State of Artificial Intelligence Online Research"
*Catherine Blackmore is the Group Vice President of Oracle. A thought leader in Customer Success, she handles CS for various clients, including small-to-medium enterprises and large Fortune 100 companies. She is rated among the Top 50 Influencers to follow in Customer Success.