Amazon's Smart Home: Leave everything to Alexa!?
August 29, 2018
Jeff Bezos, CEO of Amazon, the continuing leader of the EC industry, revealed in his letter to stakeholders last April that worldwide membership to Amazon Prime, its paid subscription program, has surpassed 100 million. Known for its solid online customer base, Amazon has attracted attention in recent years for its moves to venture into physical retail stores, such as in short-term Pop-Up stores, Amazon Books retail bookstores, cashier-less Amazon Go grocery stores, and the acquisition of Whole Foods, a major retailer of high-quality food products.
Recently, it has announced the acquisition of Ring, an American company engaged in home security equipment. With its Echo Series smart speakers and other products, Amazon has steadily advanced into the home market, and has announced the opening of Amazon Experience Center showrooms in May this year.
The growing smart home market
According to US Consulting firm AT Kearney, the worldwide smart home market will rapidly expand from 2020 onwards, exceeding 55 billion dollars in the same year and reaching around 400 billion dollars by 2030 to account for more than 40% of the entire home appliance market (1). In particular, the market for applications related to "comfort and convenience" is forecasted to capture the largest share, with linkages to services that go beyond the boundaries of the "home," such as Amazon Dash, gaining wide attention. A certain survey shows that driving the market is the youthful demographic composed mainly of millennials, with 43% of smart home product owners in America aged 32 and under (2). The same survey also claims that 33% of the owners are aged 33 to 54 (Generation X), and 24% are 55 and older, indicating that smart home products are widely accepted other than among the millennials. Their reasons, however, vary, with the millennials preferring smart products for convenience and entertainment, while the Generation X members showing interest mainly in products that provide home security and energy savings. In particular, surveillance cameras are being used to monitor safety within the home, with an increasing number of Generation X members buying them for a parent who is living alone. Another study shows that 30% of respondents with parents 70 or older and living apart from them are interested and are willing to subscribe to paid elderly monitoring services (3). With its increasingly super-ageing society, the market for smart home products arising from similar needs is forecasted to grow also in Japan.
(1) https://www.atkearney.co.jp/the-battle-for-smart-home-open-to-all
(2) http://realestatetechnews.com/blog/how-smart-homes-are-disrupting-the-real-estate-industry
(3) https://www.strategyanalytics.com/strategy-analytics/news/strategy-analytics-press-releases/strategy-analytics-press-release/2016/06/08/strategy-analytics-smart-home-elderly-monitoring-opportunity-is-set-to-grow-more-than-600-by-2020
What is the Amazon Experience Center?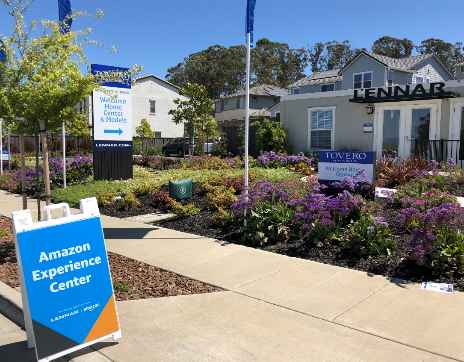 On May 9 this year, Amazon announced the opening of Amazon Experience Centers at 15 locations across the U.S. based on model houses owned by Lennar, a home construction company. These model houses allow visitors to experience using Amazon Prime services, Alexa smart speakers, and other Amazon products and services. Although smart devices such as Amazon Echo are not sold at the model houses, they provide customers with an actual experience of using these products, in a way that cannot be experienced through Amazon websites and mass retailers.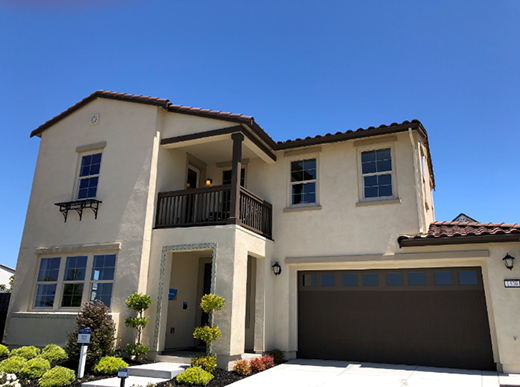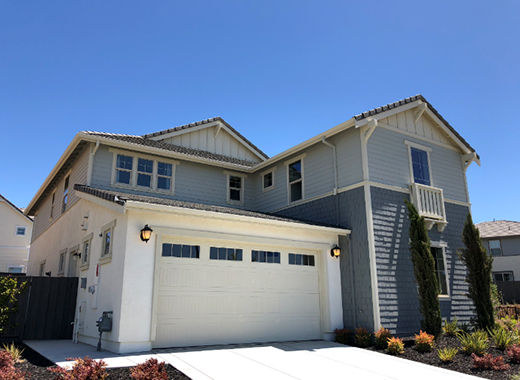 Photos: Actual model houses in California
Examples of smart home features that visitors can experience at the model houses
Checking guests at the front door

Video Doorbells made by Ring are installed at the front doors, and users can check guests from the Echo Show smart speaker monitor, as well as through Fire TV, and from their smartphones and tablets.
At the living room: "Movie time!"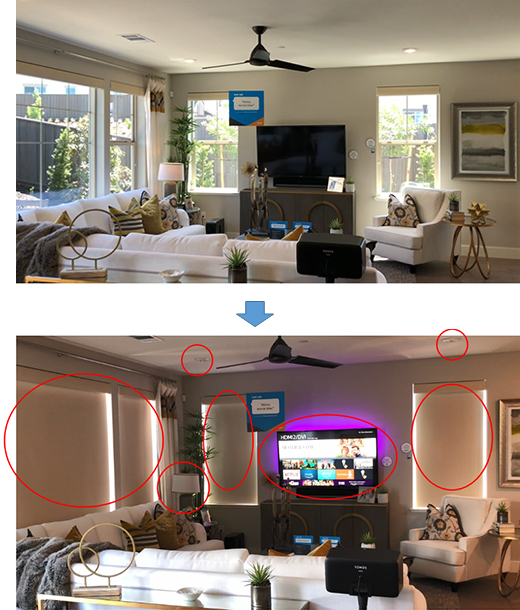 You can quickly transform your living room into previously set conditions for watching movies by simply saying, "Alexa, Movie Time," to let Alexa lower the shades, dim the lights, turn on the music and TV, adjust the air conditioning, etc. for you.
At the bedroom: "Good night"
You can prepare for bed by simply saying, "Alexa, Good night," and let Alexa lower the shades, turn off all the lights in the home, lock the front door, etc. from your bedroom. When you wake up, you can start your day smart by letting Alexa raise the shades for you, tell you the weather, traffic conditions, and your schedule for the day. Using Amazon Show's monitor, you can check on the kids' room, the yard, or anywhere in the house where a camera is installed, without leaving your bedroom. Alexa can help you control your living environment according to your own lifestyle.
Initiatives of other companies
The collaboration between Amazon and a home construction company is not something new. Under a similar approach, Apple has collaborated with Swedish home construction company Trivselhus to offer a new type of house where owners can control the home environment from their HomePod, iPhone, or iPad using Siri, Apple's voice assistant (4). The smart home products used are all chosen and designed to be compatible with Apple's HomeKit platform.
In Japan, from January 2018, Daiwa House has started offering connected homes under the "Daiwa Connect" brand, which is based on Google Home.
At the heart of these smart home initiatives are the smart speakers offered by Amazon, Apple, Google, and other vendors. The past year has seen intensified competition in the smart speaker market, wherein Amazon's 81.8% share in the first quarter of 2017 sharply fell to 43.6% by the first quarter of 2018, with a remarkable showing by Alibaba and other Chinese brands, besides Apple and Google (5).
(4) https://www.forbes.com/sites/davidphelan/2018/04/01/the-smart-home-development-where-apple-goodies-like-ipad-homepod-apple-watch-come-as-standard/
(5) https://www.businesswire.com/news/home/20180517006158/en/Strategy-Analytics-Amazon's-Global-Smart-Speaker-Share/
Since owners would most likely use only one type of smart speaker for the different rooms in their home, the natural trend was for vendors to focus on initiatives to entice customers into their ecosystem through various contact points and processes in the purchase of homes and smart phone products, rather than promoting sales of individual smart speaker units.
In its press release, Amazon claims that employees at Amazon Experience Centers are experts that have been specially trained on the latest technologies and have passion for customer service. During an actual visit, the staff explained that "the goal of this Amazon Experience Center is to introduce you to Amazon's smart home products and services, and my role is to make it a fun experience for visitors." The staff carefully explained how to try the products and services in the model house and how to configure your own home to re-create the same environment.
*Amazon, Amazon logo, Amazon.co.jp, and Amazon.co.jp logo are trademarks of Amazom.com, Inc. or its affiliates.