"Mastering an Art" With ICT
Farmers Take on the AI Agri-Challenge
March 30, 2018
Japanese-grown olives originated in Kagawa Prefecture. This is where Associate Professor Atsushi Shinjo of the Keio University Department of Environment and Information Studies works with NEC Solution Innovators to advance the development and utilization of a learning support system for olive farming techniques. Their use of ICT to gather knowhow from expert farmers and prepare teaching materials directed at helping inexperienced workers in agriculture "master an art" in a short time also advances the industry. Expectations are high that these activities will be key to Japan's agricultural revival.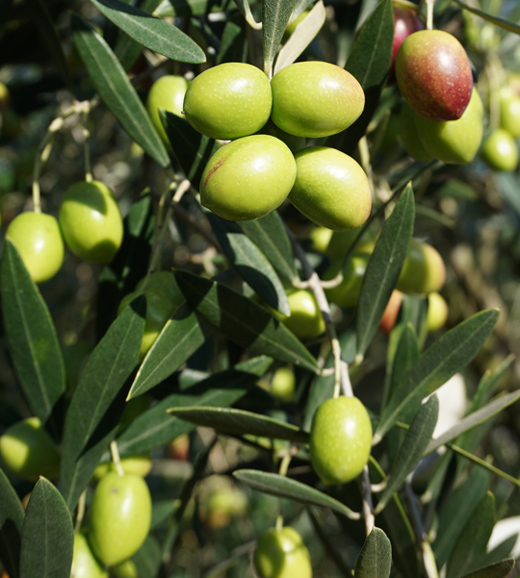 Olive Cultivation in the Golden Years
Tadotsu-cho, Kagawa Prefecture, is a peaceful town of natural splendor bounded by mountains on one side and the Seto Inland Sea on the other. Grape cultivation flourishes in the area, which is known for producing the Delaware variety prominent in West Japan. But due to the graying population and the decline in the number of people taking over the family farm, the grape industry here is not what it used to be. More and more farmers are taking on olive cultivation especially after the prefecture began promoting it amid growing concern over the amount of vineyard area being abandoned. Since 2011, the town has seen farmers voluntarily going all-out for olive farming, which requires less time and labor than vineyard cultivation.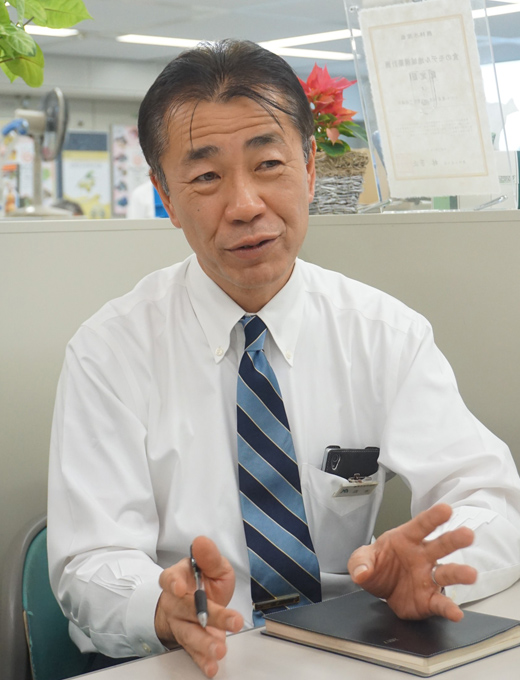 According to Fuminori Morisue, assistant section chief of fruit tree and olive group production logistics for fisheries and agriculture management in Kagawa Prefecture: "Grape cultivation demands that workers go to the trouble of arranging shelves, processing to eliminate seeds, and attaching bags for the fruit. Since olives don't require that much care, it's an easy crop for elderly people to manage. So we are pushing olive cultivation to deal with field abandonment."
The history of olive cultivation in Kagawa Prefecture dates back more than 100 years. The first three olive trees arrived in Japan from America, and were transplanted in Kumamoto, Mie, and Kagawa prefectures. Successful cultivation developed only from the tree raised in Kagawa, which now produces more than 95% of domestically grown olives. Kagawa's prefectural tree as well as its flower is the olive.
Tadotsu-cho has begun utilizing the prefecture-backed learning system in support of olive cultivation. From here on, virtual reality will be incorporated to visualize and then develop the skill-based "tacit knowledge," which takes expert farmers many years of experience to acquire, into "explicit knowledge." As inexperienced workers take over the mastery of the art, productivity will improve with significant added value.
The only organization in Japan carrying out research on olive cultivation is the Kagawa Prefecture Agricultural Experiment Station and Shodo Olive Research Institute. Here, researchers utilize cameras and sensors to compile cultivation knowhow in data form while digitizing supplementary texts and voices. The data goes into preparing quizzes of 10 to 20 questions for each process of cultivation. By accessing the quiz with a tablet teaching app, inexperienced workers can study again and again the points on caring for olive groves, including pruning methods, pest control, and evaluation of tree and fruit conditions. Repeated use of this app places learners on a relatively short path to the kind of expertise they need.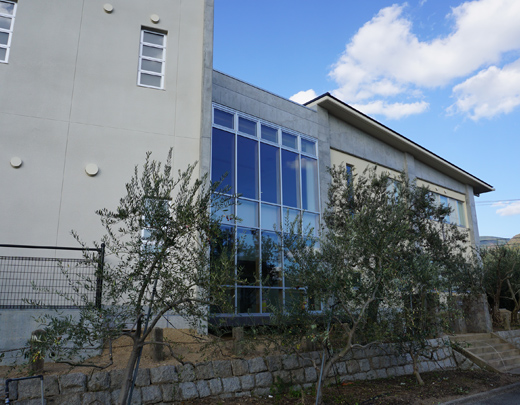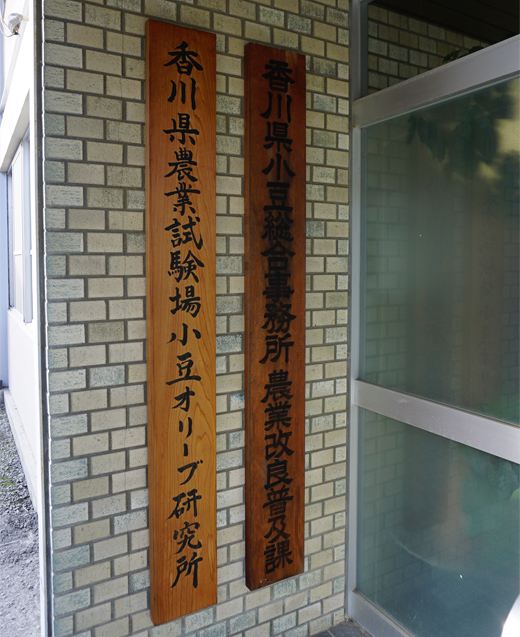 The Kagawa Prefecture Agricultural Experiment Station is unique in Japan as a research facility dealing with olive cultivation.
(Shodo-shima)
Key to Expanding Olive Cultivation
"There are still things I don't understand about cultivation, so during spare moments from farming, I open my tablet and study. Being introduced in this way to cultivation skills that I hadn't bothered with before is very useful."
Toyoko Akiyama began growing olives in Tadotsu-cho 13 years ago, gaining cultivation knowhow on a tablet that brought in the learning system. She had replanted a vineyard inherited from her family with 150 olive trees. Working the trees singlehandedly despite scant agricultural experience was a steep challenge. Stepping up and down a field that slopes halfway up a mountain, she picks the olive fruit with nimble dexterity. The thought of being 70 does not give her pause. Thanks to the learning support system, olive production is going smoothly. "Until last year," she said. "I harvested the crop myself. This year, targeting a 1,000-kilogram harvest, I'm getting help from business colleagues." Akiyama is enjoying olive cultivation at the start of her golden years.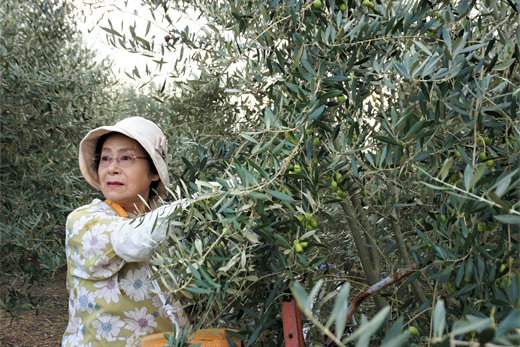 Yasuo Yamashita, the Olive Research Institute's chief engineer supervising the learning support system for olive farming techniques, says olive cultivation does not require that much attention:"To increase yield, there are pruning and harvesting tips to keep in mind. If the branches you want to train or prune are unnecessary, it's good to trim them no matter how thick they've become. People with little experience tend to cut only the smaller branches. The result is that trees will yield less fruit the following year. At harvest time, confirm the color of the fruit and, for the sake of efficiency, concentrate on taking the best-quality fruit from the entire tree even if that means stretching to reach fruit in the high places." Inexperienced farmers receive instruction on common things like this, Yamashita says, adding that the prefecture is now creating the content needed for a three-year course on cultivation, including mixing methods for fertilizers and pesticides as well as instruction on how to apply them. There are plans to prepare a full course useful for cultivation throughout the year.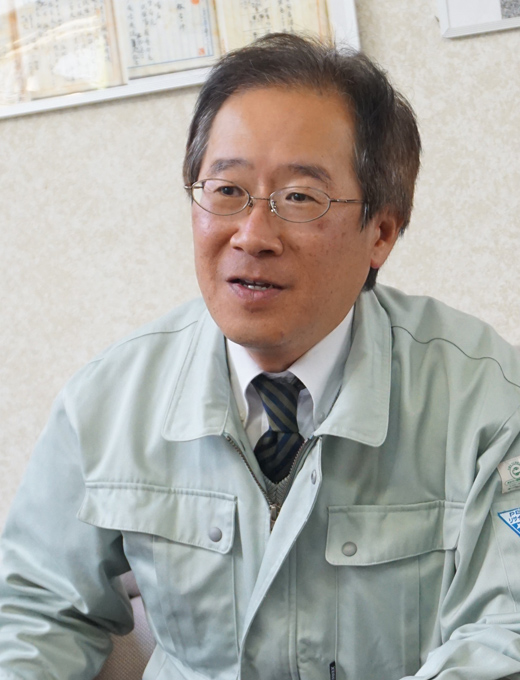 The prefecture strives to ensure its learning support system addresses the latest farming technology. In the meantime, the prolonged demand for domestic olives continues amid a rising health consciousness among people in general. The prefecture has actively promoted cultivation since the olive boom began in the late 1990s. The area under cultivation has expanded to nearly 180 hectares.
"Having positioned olives as an important industry, the prefecture is working hard to strengthen the project. It seeks further expansion of olive production to further develop the olive industry," says Morisue, the assistant section chief for agricultural production logistics in the prefecture.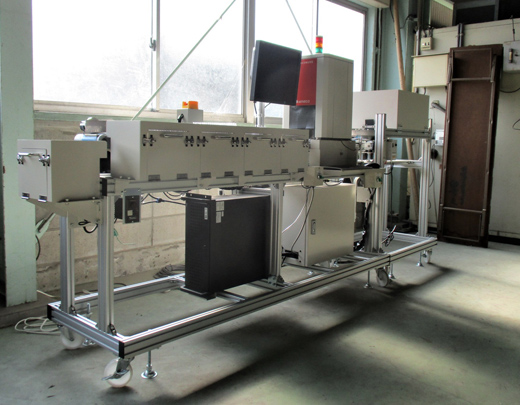 Assistant section chief Morisue clarified the purpose: "Shodo-shima has hosted a number of visitors since deciding to take on olive cultivation and frame it as a possible second life for people of retirement age. And it's important that young people who inherit farmland are able to get up to speed on working it in a short time. The efforts on system development bring the utilization tools for doing that into your field of view."
Visualization of Expertise
Content developed for the learning system being applied by Kagawa Prefecture to support agricultural technology can be replaced or substituted to match crops other than olives. Utilization of similar efforts has spread throughout Japan, including to Shizuoka and Mie prefectures, in the cultivation of mandarin oranges, mangos, strawberries.
The very process of transforming "tacit knowledge" — which is gained from the accumulation of many years of experience but which cannot be expressed in words easily — into "explicit knowledge" that anyone can see and understand brings productivity-enhancing management techniques to the business of agriculture.
Experimental placement of cameras to track eye movement show a big difference between expert and inexperienced farmers. With pruning, for example, a novice watches only for the branches that need trimming, while an experienced worker takes in the whole tree before deciding what to cut. When making a cut, the experienced worker is already in the mode of directing his gaze at another branch.
As such differences are verified with photographs of experienced farmers' activities on site, questions will arise concerning the best ways of working and the number of representative examples collected. The "tacit knowledge" that experienced farmers have a hard time explaining is transformed into "explicit knowledge." Kusui says "a lot of farming work is scheduled only for certain periods of the year. Since the system allows learning anytime, if you forget something, you can always go back and review. That's the bottom line — working it out at home however many times it takes until you get it." To enhance the learning effect, efforts are advancing to insert crops and fruits into 3D imagery.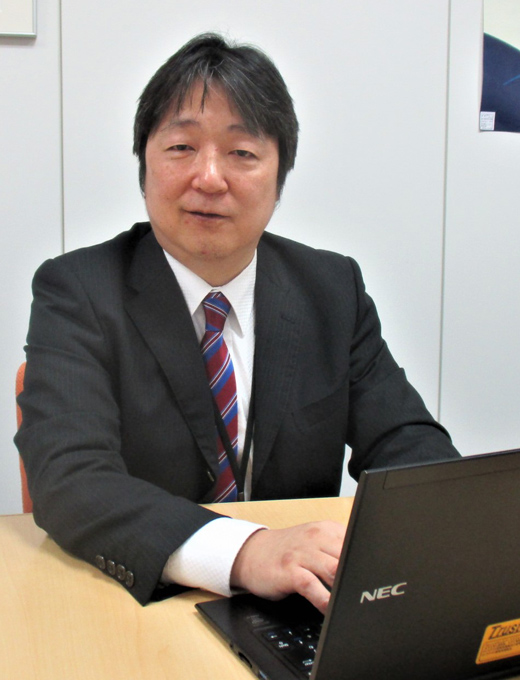 Savior for Agriculture?
Associate Professor Shinjo points out that "farmers in Japan earn three to five times more for working the same unit area. It's possible for an experienced farmer to earn more than 20 million yen per year even after age 70.Surprisingly few industries hold out such a prospect. As an industry, agriculture clearly has its perks. There's also the potential for becoming independent early on. Regardless of whether you seek re-employment as a senior, or a life of self-reliance, the likelihood of landing an open hiring slot is high."
Japan has a serious farm labor shortage on its hands. According to a 2015 survey by the Ministry of Agriculture, Forestry and Fisheries, the overall farm population of 2.09 million represented a decline of 20% in five years. With the average age of those engaged in agricultural work at 66.3 and rising, this population was close to breaking below the 2 million mark. Meanwhile, the number of people in the 15-29 age group who are classified as farmers totaled around 60,300, reflecting a decrease of26,000 in five years. At this rate, agriculture in Japan could be on the road to extinction.
In more than a few cases the efforts of new or would-be farmers to acquire the necessary knowhow fall by the wayside. One agreed remedy for the situation is the learning support system for farmers. It is expected to play a major role in transforming Japanese agriculture into a growth industry.
Quiz
◎An example of the e-Learning process:
Which is the proper way — ①~③ — to pick olives? (Answer is described below.)
(SankeiBiz editing team, Sankei Digital)