Leveraging Craftsmanship and Cutting-Edge IT to Replicate a Cherished National Treasure of Japan, the Shakyamuni Triad
March 30, 2018
March 2017 saw completion of a cloned Buddhist image of one of Japan's most revered National Treasures, the Shakyamuni Triad (Shaka Sanzon) enshrined at Horyuji temple in Nara Prefecture, created in a collaborative effort by Takaoka City in Toyama Prefecture, the center of copper production in Japan, and Tokyo University of the Arts (TUA). Using the knowledge and IT technology they brought to the project, TUA was able to precisely replicate the figure directly from the actual triad. The Takaoka copper foundry workers, following a craft tradition going back over 400 years, then completed cloned piece. The cloned cultural property was created through a merger of traditional craft technology and modern high-tech digital technology. With this initiative, Takaoka City has launched a major promotional effort to build up its local industry by creating cloned cultural properties.
"We view this project to replicate the Shakyamuni Triad as a perfect opportunity to bring attention to our craft, traditional Takaoka copperware" observed Toshiharu Kajihara, Director of the Takaoka Traditional Craft Copperware Promotion Cooperative. Tokyo University of the Arts conceived the idea of cloning cultural properties to replicate these precious items and other works of art that are subject to damage, deterioration, or loss in natural disasters by exploiting advanced technology. Takaoka's copperware industry joined the TUA cloning project to carry out the foundry work, and cast the new cloned Shakyamuni Triad. At the unveiling in March 2017, close to 1.8 million visitors flocked to the ten-day exhibition at Takaoka, and many expressed surprise that the cloned version actually superseded the original.
New Manifestation of Cultural Property
Masaaki Miyasako, professor of Tokyo University of the Arts Graduate School and Director of TUA's Public Collaboration Center, has proposed that we regard cloned cultural properties as a new form of cultural property. Tangible cultural properties are so valuable that they are closely guarded and never allowed to travel or be removed from the premises. This means that aside from a just few custodians and other insiders, they are rarely seen, or can only be appreciated from a distance. Nevertheless, many of Japan's cultural properties have suffered wear and tear and damage over the centuries or due to natural disasters. Foreign visitors coming to Japan may find that their access or opportunities to appreciate significant cultural properties are limited. One obvious solution to this problem would be to replicate and restore vanishing cultural properties using sophisticated new technology and put cloned versions on display instead of the fragile originals.
We are not talking here about mere copies. Cultural properties are refashioned using the exact same materials and techniques to faithfully convey the historical background of each piece, and this scrupulous attention to detail has been well received.
Elaborating on the significance of cloned cultural properties, Professor Miyasako noted that "the original piece may be difficult or even impossible to move, so a cloned replica allows us to share our cultural heritage with a far larger audience in every part of the country—indeed, with people from countries around the world—by letting people come into direct contact with the object.""By cloning cultural properties, this offers a solution to the age-old dilemma of how to protect and conserve cultural treasures while at the same time making them assessable to the wider public."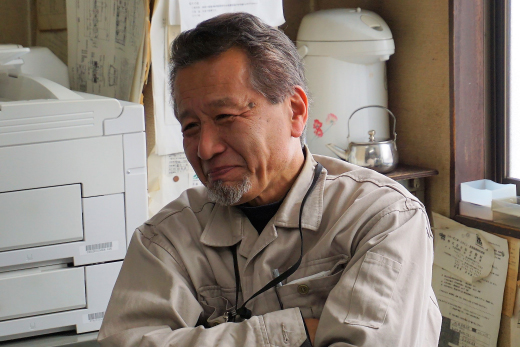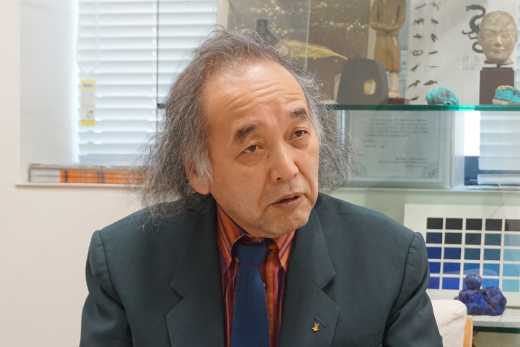 Having obtained permission from Horyuji and the Agency for Cultural Affairs, the triad replication project got underway in 2014. Serving as coordinator in moving the project forward was Professor Junji Ito, now affiliated with the TUA Public Collaboration Center but previously on the faculty at the University of Toyama Graduate School of Art and Design. With close ties to the local community, Professor Ito was intimately familiar with Takaoka's 400-year history of copperware casting and nearby Nanto's 600-year tradition of Inami wood carving and sculpture. In response to Professor Ito's overtures, craftsmen from both Takaoka and Nanto communities readily agreed to take part in the triad cloning project, and the project evolved into a model of how to promote local industry through collaboration among industry, academia and government. According to Professor Miyasako, "Takaoka's casting technology, both in terms of technology and materials, is ranked best in the world." Traditional crafts people were called on to participate in the project precisely because "it very much relies on the heritage and legacy of traditional craft technology."
First we measured the dimensions of the original triad with permission and cooperation from the Horyuji authorities. This was done using a projector to project a stripped pattern over the Shakyamuni Triad, then taking 3D measurements with two CCD digital cameras. For narrow crevices and places where the digital camera couldn't reach (such as the gap between the central figure and the broad leaf-shaped mandorla behind the figure), we compensated for missing data with estimates based on TUA data and familiarity with Buddhist statuary, and used that data for our 3D measurements which were output to a 3D printer. This was how we formed the casting mold.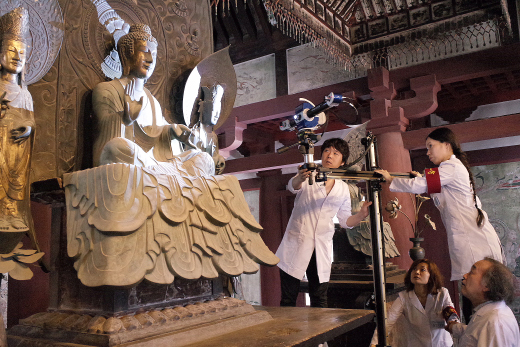 The Shakyamuni Triad is approximately four meter high from the base to the tip of the flaming mandorla. The overall shape of the triad is complicated by two attendants standing on either side of Shakyamuni (the historical Buddha) seated in the middle. This makes measuring the entire piece practically impossible since, as a national treasure, the piece cannot be touched nor moved. The mold was completed by visually compensating for those places that we couldn't actually measure."We were not able to replicate the triad by digital means alone," observed Professor Miyasako."It was only by merging digital and analog technologies that we were able to complete the piece."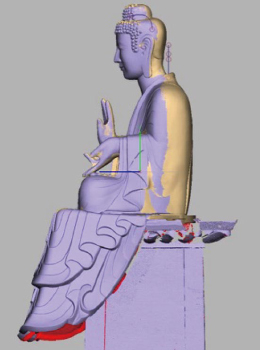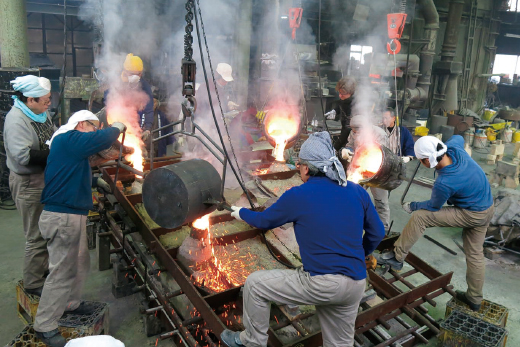 The casting work was carried out by five companies, all members of the Takaoka Traditional Craft Copperware Promotion Cooperative. Optimum casting methods were employed for the different parts of the triad—the central image, the two attendants, the large central mandorla, the smaller mandorlas for the attendants, and so on— and the company with the most casting expertise in each respective area was assigned that part.
Mr. Kajihara's company, Kajihara Seisakusho, was in charge of casting the large mandorla. Although he has been involved in restoring a number of tangible cultural properties over the years, Mr. Kajihara admitted "feeling a certain amount of pressure with this piece going back 1,400 years."
Replication ran into one difficulty after another. While trying to reproduce the delicate designs on the back of the mandorla, Mr. Kajihara found that it only weighed 20 to 30 kilograms and wasn't self-sustaining."Of course our data didn't reveal the wall thickness at every point on the piece. It was a real challenge, and there wasn't anything we could do about it."
Meanwhile, Tokyo University of Arts was charged with the finish and patina of the triad, which also involved replicating all the scratches and wear and tear accumulated over 1,400 years of existence. Basically, the task was to age the triad, which came out of the mold looking bright and shiny as ten yen coin. "There were some who disparaged our new cloned version of the triad as just a copy," said Professor Miyasako. "So, again in collaboration with Horyuji, we performed a ceremony that imbued the new triad with spirit, and christened the piece Heisei Shakyamuni Triad.
Professor Miyasako went on to elaborate the longer term objectives of the clone cultural property initiative."The idea is to create something that actually transcends the original cultural artifact. It's not simply a matter of passing down and preserving some tangible cultural object—although of course that is part of our objective. Rather, it's about actively publicizing and raising awareness of the triad and its significance going into the future." In pursuit of this goal, we actually repaired certain blemishes. For example, we restored some of Shakyamuni's spiral-shaped curls of hair (rahotsu) and undulating flame designs on the great mandorla that have been lost over the centuries.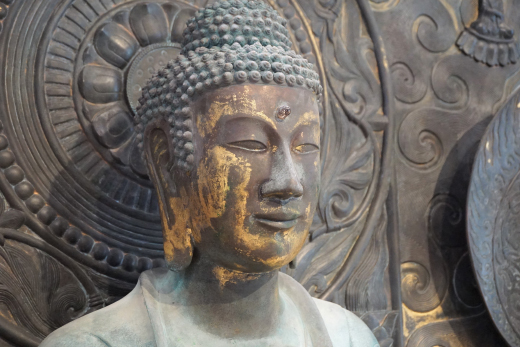 Most interestingly, we reversed placement of the two bodhisattva attendants based on compelling art historical analysis and study. It will be apparent that we are not blindly copying the original, but creating a powerful individualistic clone cultural piece that is not captured in the original triad. Tokyo University of the Arts has thus far created about 20 tangible cultural properties including the ceiling mural from the Great Eastern Buddha of Bamiyan in central Afghanistan that was destroyed by the Taliban and the murals that once decorated the walls of Horyuji's Golden Hall (Kondo) that were damaged by fire. We should note that Bamiyan murals were heavily damaged long before the Taliban came on the scene. These murals are the precious heritage of Afghanistan, crossroads of the Silk Road where Zoroastrianism, Buddhism, Greek culture, and other cultural influences once met and merged.
Cloned Cultural Properties: Key to Industrial Revitalization
TUA has acquired a patent on cloned cultural property technology, and launched a startup business to pursue the endeavor. If "cloned cultural properties were to make their way to marketplace," notes Professor Miyasako, "this could sow confusion in art market as a kind of forgery. Our goal is to create a viable business by setting up an agency that closely monitors and manages potential clients—public art, museums, art galleries, and so on—and contracts the cloning production work out."
This project has greatly empowered Takaoka City. Hiroshi Akimoto, head of the New Industry Support Team of Takaoka Industrial Promotion Planning Division, noted with a sense of urgency that "digitization is really gaining momentum as one can see from the British Museum's efforts to digitize their collections, a recent report that Japan's own National Museum has just purchased the world's most advanced CT scanner, among other developments."If Takaoka doesn't move fast to take up 3D technology, we may be left behind."Our goal is to set up a viable business in 2018 by organizing a consortium including Takaoka City, the Chamber of Commerce, and other stakeholders, and establish a base for replicating and restoring tangible cultural properties. While starting to explore the potential nationwide demand for replicating cultural properties, Takaoka is also seeking to further strengthen its ties with Tokyo University of the Arts.
Sales of copperware products peaked in the early 1990s, and have been falling ever since. Sales today are roughly one-third of what they were at their height in the 1990s. The cloned cultural property initiative has only just begun, but already shows tremendous promise as way to revitalize Takaoka industry by blending the community's traditional craft technology with modern digital technology.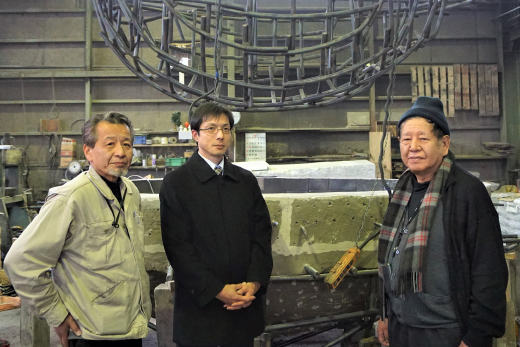 (SankeiBiz editing team, Sankei Digital)