5G brings specialized medical services to rural areas
April 24, 2018
Residents in remote mountainous areas will soon be able to receive examinations from medical specialists at leading university hospitals in far-away metropolitan areas. This will be enabled by cutting-edge field trials of remote medical services launched in 2017 in order to take advantage of next-generation 5G mobile communications systems that can connect rural clinics with leading university hospitals.
Shortage of medical institutions in rural areas
With the progressive aging of Japan's population, the shortage of doctors and lack of easy access to medical services are becoming major social issues. The elderly population is especially prominent in remote areas, and elderly residents in these areas are finding it difficult to access advanced medical institutions that are located in metropolitan areas. In addition, doctors at clinics in rural areas are often forced to make examinations outside their specialized medical areas.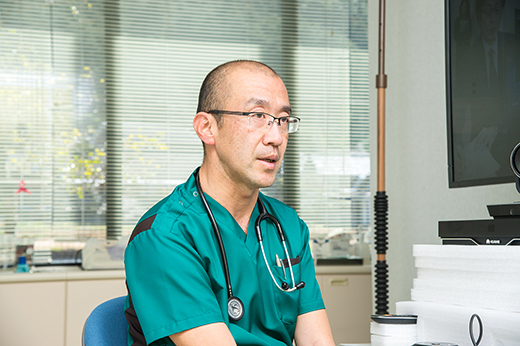 "In Hidakagawa, Wakayama Prefecture, where the percentage of the population aged 65 or over is about 40%, they need to ride the bus for an hour and a half to get to the nearest leading hospital. It is a great burden on elderly people to frequently have to visit hospitals in the city for medical services. At the same time, a doctor like me, who is rooted in the local community and sees an abundance of patients with a wide variety of conditions, would benefit greatly from being able to consult with specialists regarding patient cases."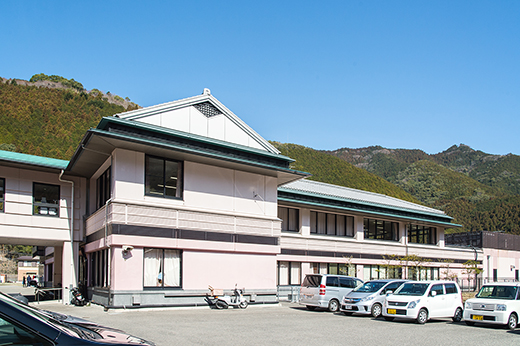 In an effort to address the situation, the Wakayama Prefectural Government is working proactively to enhance medical services in the prefecture through initiatives such as constructing a collaborative medical system that connects local medical institutions. One such initiative is a remote medical support system launched in October 2016 that connects the Wakayama Medical University and the Kawakami Clinic in Hidakagawa.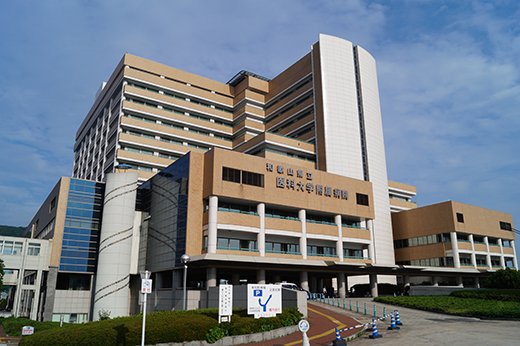 However, this remote medical support system still faces many issues, such as unclear images and transmission delays. Moreover, the limited examination capabilities and insufficient communication quality between doctors were cause for frustration.
Field trials of high-definition 4K video delivered over 5G
Currently, the Ministry of Internal Affairs and Communications is leading a number of field trials for remote medical examinations that take advantage of 5G.One of them is the remote medical examinations enhancement project carried out under contract with NTT DOCOMO, Inc. The Wakayama Prefectural Government and the Wakayama Medical University have both decided to participate in this project in order to solve existing issues, and to further enhance remote medical support systems for residents who live in rural areas. This led to the launch of advanced field trials for the testing of remote medical examination services.
In the field trials, 4K displays have been set up at the Wakayama Medical University and Kawakami Clinic, and echocardiogram (echo) images of a patient's affected area and images captured with high-definition 4K cameras are transmitted from the clinic to the university via 5G. This enables the doctors to communicate in real-time via video conference while looking at the same images of the patient.
The focus of the field trials is to verify 5G-based image transmission during both the high-definition medical interview video conference, and the high-definition medical examination video image transmission. The installation of 5G base stations and terminal stations, as well as the codec technology for high-definition 4K video transmission, play a vital role in system construction. NTT DOCOMO, which gave high marks to NEC's equipment development technology and system integration capacity as demonstrated through a variety of joint trials, chose NEC as its project partner for these remote examination trials as well.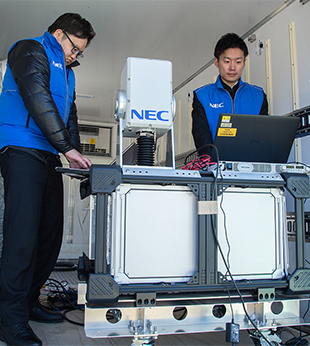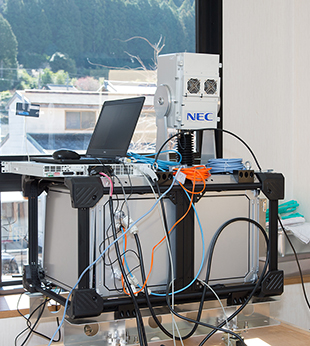 5G base station equipment and terminal station equipment at Kawakami Clinic
Face-to-face interviews and highly reliable examinations
From February to March 2018, field trials were undertaken in cardiology, orthopedics, dermatology, and other departments in which5G was used to connect Wakayama Medical University with Kawakami Clinic to conduct remote examinations with consent from patients. A Wakayama Medical University doctor who participated in the trial talked to us about the system.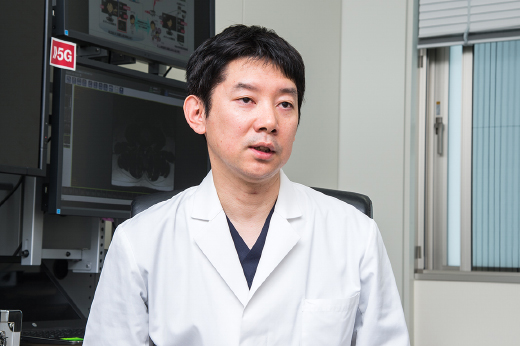 "There were hardly any voice or video delays, and the quality of the video was much better than we had imagined. The movement of the heart in the transmitted echo video was crystal clear, which we believe will, in turn, enhance the quality of examinations. Our dermatologists were amazed as well by the quality of the video, where the texture and shade of affected areas were very clear. Also, the exchange with patients through video conference felt like face-to-face interviews."
Meanwhile, a doctor who participated in the trial at the Kawakami Clinic in a rural mountainous area explained the advantages of the system as follows.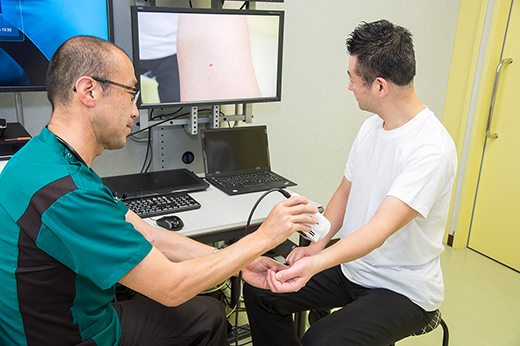 "In the field trials, it was as if the medical specialist at the prefectural medical university was right there next to me as we watched the same video of the patient's affected area. Getting the opinion of a medical specialist provides patients with the advantage of a highly reliable examination, while the doctors are provided with the opportunity to acquire specialized knowledge. I truly hope that this kind of cutting-edge medical service spreads outside our prefecture," Naoki Hirabayashi, M.D., Director, Hidakagawa Kokuho Kawakami Clinic.
Enhancing health care delivery in rural areas
The introduction of 5G remote medical examination services will help reduce the burden of residents living in remote mountainous and island areas, as well as of elderly people who must go into the city for medical attention. In addition, the remote examinations, which enable patients and doctors to obtain the opinion of medical specialists without leaving local clinics, will greatly contribute to reducing the disparity between medical services provided in metropolitan areas and rural areas.
Furthermore, the remote examinations can help local doctors upgrade their medical skills and improve the overall quality of rural medical service.
Dr. Yamano of Wakayama Medical University expressed his expectations for the system in the future. "The remote medical examinations, where valuable advice can be delivered by medical specialists, will likely become a reliable support system for inexperienced doctors who are newly dispatched to remote areas. I also believe that the system can be utilized for providing emergency medical care, such as by using small-sized echo cameras to transmit high-speed video images of patients at disaster sites or at the site of an accident. We plan to continue improving the quality of rural medical services by proactively adopting cutting-edge technologies."
The field trial supervisor at NTT DOCOMO, which provided communication infrastructure and evaluated trial performance data, and a staff member at NEC, which provided the 5G wireless equipment, shared their insight regarding the trial with us.
"Ultra-high speed 5G communications are often associated with the entertainment industry. However, these trials showed us that 5G can play a role in solving social issues, such as reducing regional disparities in the delivery of health care. We plan to create new business models and value by continuing to take advantage of 5G technologies in collaboration with ICT vendors, and a wide variety of companies and organizations in the near future."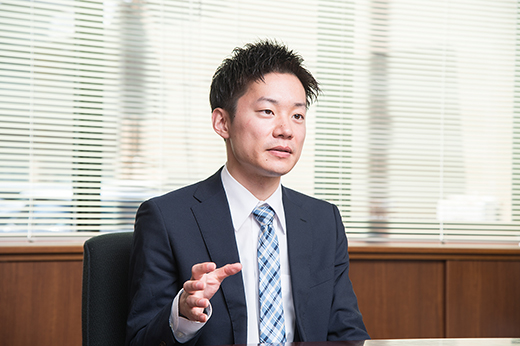 "We have been carrying out a variety of 5G projects in collaboration with NTT DOCOMO. We feel that this project, which uses wireless communications to overcome disparities that exist between medical services in metropolitan areas and rural areas, is very worthwhile. In the near future, we hope to make even more contributions, not only in the area of diagnosis but also in the area of treatment, by using 5G to further improve the speed and quality of communications."
NEC is working on a wide variety of 5G projects, ranging from remote diagnosis and unmanned remote construction at disaster sites, to AI-based public safety. NEC aims to use 5G technology to remove disparities and to realize a society that is safe, peaceful and friendly to all people.
*This trial was conducted by NTT DOCOMO under a project commissioned by Japan's Ministry of Internal Affairs and Communications to examine the technical specifications for 5th generation mobile communication systems that can realize a data communication speed exceeding 10 Gbps in densely populated areas.