Leveraging industry-academia-government collaborations to deliver fresh fruits and vegetables overseas at low cost
September 10, 2018
A consortium between industry, academia, and government in Kyushu is pursuing a new approach to bring a variety of fruits and vegetables in one container while keeping them fresh during transport to overseas consumers. The consortium has succeeded in maintaining freshness even for transport by sea by developing an improved container and creating a system for accumulating data on the state of the vegetables during transport and other information. In the end of May this year, a trial was conducted to transport fruits and vegetables harvested from three prefectures, namely, Fukuoka, Kumamoto, and Kagoshima, to Hong Kong using a newly developed multi-temperature-zone container. Commercialization of this approach to transport fresh fruits and vegetables from Japan by sea will provide a low-cost alternative to air transport and open up new export opportunities.
Transporting fruits and vegetables from Kyushu to overseas markets using a multi-temperature-zone container
On June 8, a truck carrying a white-painted, brand-new container arrived at the Tsing Yi Industrial Center in Tsing Yi Island, Hong Kong. The container was loaded with more than 20 kinds of vegetables and fruits procured from three prefectures in Kyushu, including peaches, strawberries, mizuna greens, and bok choy from Fukuoka, watermelons and tomatoes from Kumamoto, and mangoes and squash from Kagoshima. The cargo was loaded at the Institute of Agricultural and Forest Resources, Fukuoka Agriculture and Forestry Research Center at Kurume City, Fukuoka Prefecture on May 29, and arrived in Hong Kong after a ten-day voyage by sea from the port of Hakata.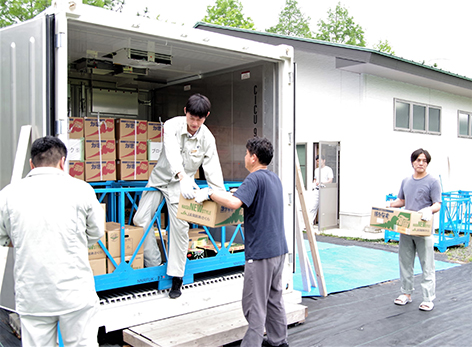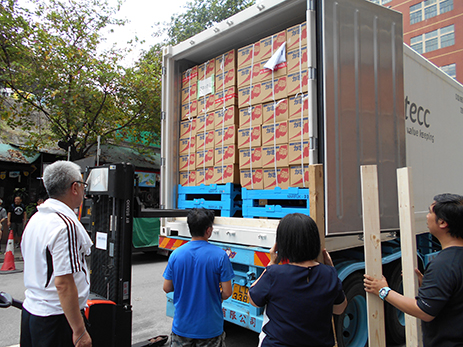 This container is a "multi-temperature-zone container" developed by an industry-academia-government consortium led by the National Agriculture and Food Research Organization (NARO), the core institute in Japan for conducting research on agriculture and food. Aside from Kyushu University, the consortium includes Iwate University, the agricultural research institutes of Fukuoka, Kumamoto, and Kagoshima prefectures, NEC Solution Innovators, Denso, Nishi-Nippon Railroad, Kyushu Agricultural Products Trading, and 3JA. The consortium has devised various measures to maintain freshness of small quantities of various types of fruits and vegetables loaded in one container as they are transported by sea over an extended period.
"Each fruit and vegetable requires a different suitable temperature for maintaining its freshness. For example, those grown in warm places would deteriorate easily at low temperatures. Also, some produce a gaseous plant hormone called ethylene, which hastens ripening of other fruits. Loading different vegetables and fruits together, therefore, is a challenge, which was overcome through the development of this container," explains Toshitaka Uchino, Specially Appointed Professor at the Faculty of Agriculture, Kyushu University. By creating the best environment for maintaining freshness of each fruit and vegetable inside the container, they were able to maintain freshness over an extended period of transport.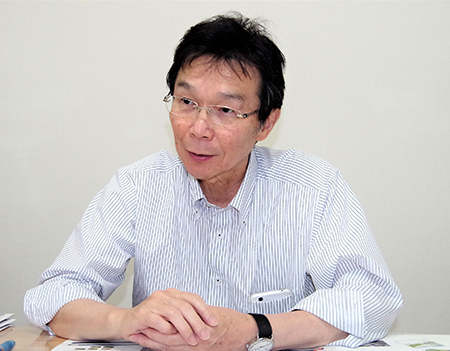 The transport to Hong Kong was done in order to test the practicability of the multi-temperature-zone container. Around 30 members including Professor Uchino came from Japan on the day the container arrived in Hong Kong. After removing the fruits and vegetables from the container, it took them one day to check the state of freshness of each item. Among four categories to describe their freshness, namely, "good," "marketable," "ready for consumption," and "unfit for consumption," most of the fruits and vegetables were either in the "good" and "marketable" categories.
"Most of the transported items were in a "marketable" state. We still have to do further analysis, but we were able to achieve the expected results," claims Professor Uchino with a smile.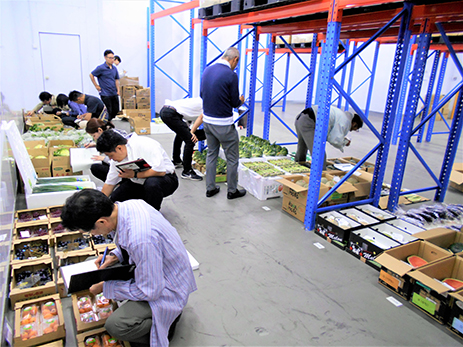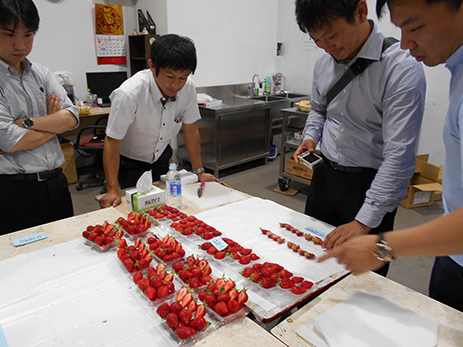 Making Japanese fruits and vegetables more affordable
Hong Kong is the largest importer of food, agricultural, forestry, and fishery products from Japan. Aside from being a relatively easier destination compared to other countries and regions for exporting products from Japan due to its fewer import restrictions and having no customs tariff, Hong Kong has seen a rise in popularity of Japanese cuisine in the past few years, with a sharp increase in the number of Japanese restaurants in the territory. There is a rising interest in agricultural and food products from Japan, and it has become common to see Japanese fruits and vegetables sold at high-end supermarkets in central Hong Kong. They are sold, however, at considerably high prices.
According to Hideaki Nakaura, Manager at Smart-agriculture Business Promotion Division, NEC Solution Innovators Kyushu Branch, who accompanied Professor Uchino to Hong Kong, greenhouse-grown oranges from Kyushu are sold at 370 Hong Kong dollars per kilogram, which is equivalent to around 48 USD (1 HKD = ca. 0.13 USD). Shipping by air increases the price to several times higher than the price in Japan.
"Japanese products are known for their quality and for being safe, but compared to agricultural products from other countries, those from Japan are sold at very high prices. Two pieces of eggplants cost around 30 and half a head of cabbage around 15 Hong Kong dollars, around 2 to 3 times the price in Japan. Sold along with cheaper products from other countries, products from Japan need to be made cheaper to make them more competitive," explains Mr. Nakaura.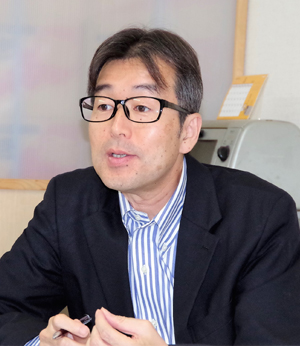 Fruits and vegetables are exported to Hong Kong at a low volume and are transported by air to deliver them in a fresh state. Air transport, however, costs around six times more than transport by sea, meaning that transport costs have been marked up into the price. "Although Japan has targeted the high-income wealthy class for its agricultural exports, we can further expand our exports if we promote the good quality of Japan's fruits and vegetables among the middle income class as well," says Professor Uchino. The major goal of developing the multi-temperature-zone container is to address the two conflicting issues of delivering fresh agricultural products from Japan and transporting items at low volumes based on local needs.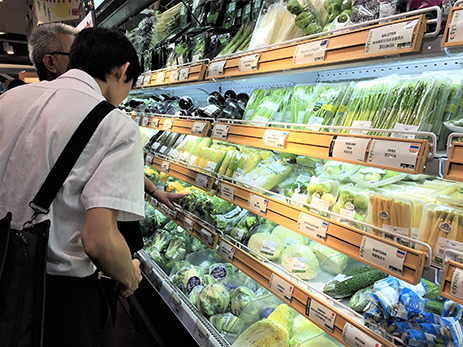 Aiming to provide various types of other information, such as local preferences for specific times of the year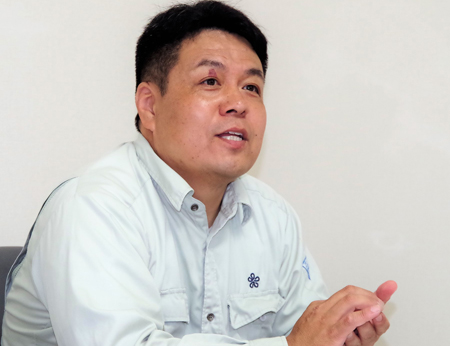 Loading different types of fruits and vegetables together makes their transport more complex. Helping exporters to determine which fruit or vegetable to load in which temperature section is the "Storage characteristic chart of fresh produce (Hinmoku Karte (TM))" developed by NEC Solution Innovators. The company is developing a database for these "Hinmoku karte", as well as a cloud service that provides one-stop support for the export of fruits and vegetables from different regions. Through the service, a yearlong schedule of items to be exported from different production areas is created. Using this schedule, exporters pack a mixture of different items into one package based on the shipping plan and the product chart, and simulates the most suitable loading procedure for allocating the packages to the proper rack in the temperature chambers inside the multi-temperature-zone container. To commercialize the system, the consortium plans to add other information, such as loss rates and product evaluation results per item, as well as local needs at the export destination. Mr. Nakaura hopes that "if we can provide information to stakeholders, for example, about the expected loss rates for exporting items at particular seasons, the status of freshness or shelf life, or the local preferences, we will be able to further expand exports by adding new export items." Going forward, they are also considering the linkage with different solutions for providing information such as country-specific quarantine inspection and "positive list" restrictions for pesticide residues, publication of cultivation history, management of production costs, and GAP certification support. Also being considered is the establishment of a system for smooth cloud-based transactions for conducting business negotiations and making proposals from production areas.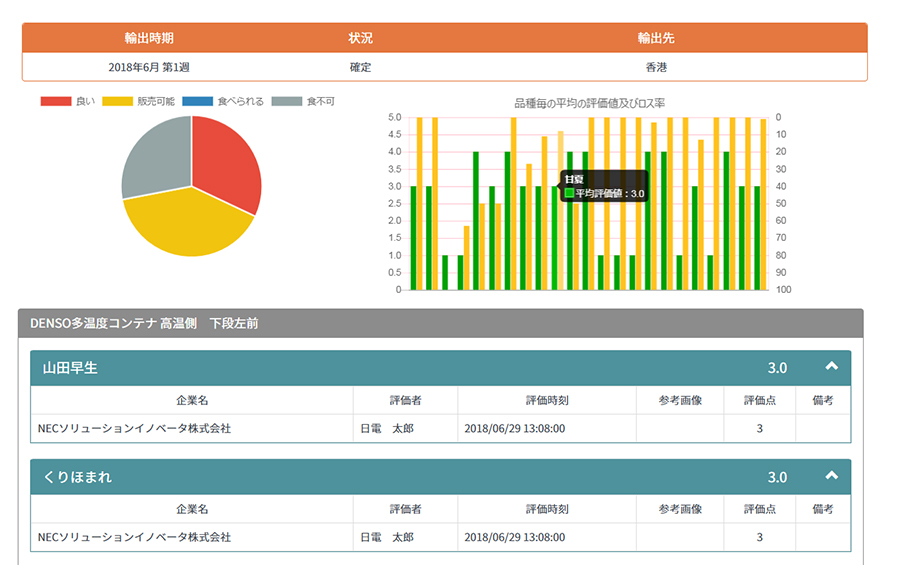 Springboard for an all-Japan initiative
The trial in Hong Kong is a major step towards commercialization of the multi-temperature-zone container. The trials, however, will be temporarily discontinued this fiscal year. A major challenge to its commercialization is whether there are companies that would actually use the container and whether it would be possible to build a network for operating the transport of the container between Japan and abroad.
Professor Uchino explained the significance of the initiative saying, "Traditionally, our exports have only been from limited regions, like only from Fukuoka or only from Kumamoto; but this approach is not globally competitive. Regional cooperation will be important from now on. For example, if the local customer wants strawberries and they are not available in Fukuoka but are available in Kumamoto, then we should ship from Kumamoto instead. We can increase our overall export level through collaborations across a wide area. Right now, our network covers only three prefectures; but we need to extend the collaboration throughout Kyushu and eventually expand into an all-Japan initiative."
The Japanese government aims to expand the overseas market for the export of agricultural, forestry, fishery, and food products from Japan to 1 trillion yen in 2019. The amount of exports in 2017 was 807.1 billion yen, and has continued to increase for the past five years. Although we are close to achieving the target, which had been moved up by one year, this should be seen as only a waypoint to achieving higher targets. The challenge lies in how technology will be leveraged to move this initiative forward to expand the export of agricultural products, which in turn leads to revitalization of Japan's agriculture and the development of the regional economy, amidst the increasingly harsh environment surrounding Japan's agriculture.
*This project is supported by the "National Agriculture and Food Research Organization Bio-oriented Technology Research Advancement Institution (BRAIN)". The special scheme project on regional developing strategy.