Key to a Healthful 100-Year Life: the Brain!
- If you know the functioning of your brain and keep young and healthy, you have nothing to fear in life
March 30, 2018
In recent years we have seen a rapid increase in heart disease caused to a large extent by excessive mental stress. "Interpersonal relations are stressing me out, I'm depressed, and can't concentrate on my work. Recently I have been inundated with work, and tired all the time…." No doubt we have all felt these symptoms of stress from time to time. Meanwhile, cognitive decline associated with aging causes a host of problems. To address these neurological and heart-related issues, world-class scientists and researchers have come together and are pursing cutting-edge research and development. Yoshinori Yamakawa, manager in charge of the whole program, recently shared his thoughts about the objectives and nature of the research, and how it might be utilized in the future.
An important key to happiness in modern society—the brain
Novelist Ryunosuke Akutagawa took his own life because, in his final words, he felt "vague anxiety about my future."Yet who among us hasn't felt some "vague anxiety about the future" from time to time? Particularly in this day and age when some new major disaster could strike at any time, when economic prospects look increasingly bleak as Japan's population continues to plummet, it's difficult to muster any sense of joy or psychological satisfaction.
How can we shake off these feelings of malaise and live happily? A critically important key is the brain. All sources of discontent—anxiety about the future, drudgery and hard work, interpersonal conflict and aggravation—all arrive at the brain in the form of stress. If acute stress persists over a prolonged period of time, the brain ceases to function normally and mental equanimity becomes all but impossible.
Needless to say, brain-related problems are not all psychological. By the year 2025it is estimated that Japan will have over 7 million dementia patients, and the extreme greying of the population will put Japan's nursing and medical care under enormous strain.
It was in this context, as society began to pay closer attention to brain and heart related problems, that a large-scale public-private initiative was launched in 2014.Dubbed Actualize Energetic Life by Creating Brain Information Industries, the project was adopted by a Cabinet Office sponsored initiative called ImPACT*, Impulsing Paradigm Change through Disruptive Technologies Program.
* ImPACT: The Impulsing Paradigm Change through Disruptive Technologies Program (ImPACT) was established as a national initiative by the Cabinet Office with the aim of making Japan "the world's most innovative country."By promoting high-risk, high-impact R&D projects affecting the entire country, we aim for a fundamental transformation of industry and society.
Commenting on the objectives of the project, Program Manager Yoshinori Yamakawa observed that "the US and Europe tend to support basic brain-related R&D in medical and military domains with large-scale budgetary investments over 10-year periods. With our program we have adopted a different approach of trying to get brain-related research out and available to the general public as quickly as possible, and at the same time achieve industrial-scale production ahead of other countries."
To implement this idea, the ImPACTproject is now pushing ahead with research and development while building a platform. While developing the infrastructure to create a Japan-originated brain information industry, the project will also provide support for venture firms and new businesses.
R&D to keep the brain sharp and healthy
Very simply, the goal of this research is to keep the brain sharp and healthy. Brain-related research in the past has mostly focused on treatments or therapies for mental or psychiatric disorders. Global IT companies, on the other hand, have been pursuing R&D to find ways of replacing or complementing brain function using IoT and AI technology that could provide assistance to families of dementia patients. But note that all of these initiatives only provide care after the fact—that is, after a neurodegenerative condition has developed. None of them provide assistance to people who want to keep their brains supple and healthy in the interests of a long and healthly life.
Mr. Yamakawa has chosen to focus his efforts on sustaining good brain health by promoting brain visualization and conditioning (control) through R&D that combines AI technology, robotics technology, and brain science.
We are now pursuing three key avenues of research and development. The first R&D project is to build a portable brain-machine interface (BMI) that will help people sustain and improve cognitive function.
The portable BMI is a very simple measuring instrument that enables people to measure their brain state anywhere at any time. By feeding back the measured results (neuro feedback) to the user in real time, this enables the user to regulate the brain, therapeutically modulate mental disorders, and help restore cognitive function.
"We need some sort of device to visualize the state of our brain so we can get a clear picture of cognitive function. Recent studies have revealed significant differences in brainwave patterns between people with high versus low cognitive function. We also know that the same person can exhibit wide fluctuations in brain activity patterns. So when the brain activity patterns of subjects approximate those of people with high cognitive function they receive positive feedback "brainwaves are currently in a good state," and conversely when patterns resemble people with low cognitive function, they receive negative feedback "brainwaves currently in a poor state." Thanks to this neuro feedback, subjects gradually learn to control their own brain activity patterns to make them more like people with high cognitive function, and their cognitive function markedly improves."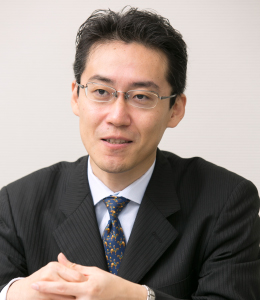 Magnetic resonance imaging (MRI) can be used to visualize brain information, but MRI scanning equipment is exceedingly expensive (on the order of hundreds of millions of yen) and MRI scans are also quite costly, so the technology is not generally available in many countries. Furthermore, gradual improvement in cognitive function requires repeated measurement, which means MRI equipment is impractical.
What we need here is an economical lightweight portable BMI device that will enable people to measure their brain state as quickly and easily as they measure their blood pressure. The portable BMI thus appears to be a very promising tool that will open the way to brain information industrialization and represent a significant contribution to the international community.
AI with personality: limitless possibilities of Brain Lloyd
The second R&D project contributing to brain health is brain robotics. The goals here are to encourage exercise, regulate stress, and enhance multitasking capabilities by integrating brain information with robotics.
The research team assigned to this project is currently studying a robot capable of multitask training using additional limbs. The idea is to identify the neural activity involved in controlling three or more arms, and to develop efficient training methods for honing or enhancing human multitasking capabilities.
"Recent studies have reported that when subjects engage in multitasking—say, using a smartphone for a prolonged period while viewing a personal computer or television—this will cause the brain to atrophy. While the causal relationship between multitasking and contraction of the brain is unknown, there is some evidence to suggest that the human brain is still struggling to catch up with the evolution of today's IT environment. The researchers impose an additional burden on the brain that typically only has to control two arms, by forcing the brain to manipulate and control three arms. By coaching the brain in this way, the goal is to train an efficient multitasking brain that is fully capable of dealing with advanced IT environments" (Yamakawa).
The third R&D project contributing to brain health is brain big data. The goal here is to develop AI with personality by establishing a technology that is capable of deciphering images in the brain by using massive amounts of MRI data.
For example, research has shown that if you take an MRI brain scan while a subject is gazing at a photograph, the brain exhibits a fixed pattern of activity. By collecting vast amounts of this kind of data, you can identify photos that convey a similar impression in the subject's mind. Then if you add certain adjectives to the photos—beautiful, comfortable, and the like— and collect brain pattern data, then we can extract the appropriate adjectives from the MRI scan data when the subject views different photos.
Following up on these research findings, Kamiya Labis now working on Brain Lloyd, essentially a "brain that works behind the scenes as a surrogate for the individual."
"Most conventional AI technologies have some specific goal-oriented objective: winning a Go match, boosting sales, and so on. But when we think in terms of diverse personalities, there are many cases where there is no clear objective or one correct answer. Essentially, what we are trying to do is introduce personality into AI using MRI data.We are thus able to simulate Yamakawa's brain to the extent that "it knows how Yamakawa would respond if he saw something" even though Yamakawa is not actually present. Now if we apply this to the healthcare domain, I should be able to search Brain Lloyd for 'snug comfort zone' or 'amiable companion'" (Yamakawa).
Note that this application does more than just alleviate or relieve stress. For example, it's not too visionary to imagine that one day we will be able to obtain business advice from the Brain Lloyd of a now deceased brilliant business guru, or baseball pointers from an all-star player who lived in the past. The possibilities are endless, but Brain Lloyd can be double-edged sword. Mr. Yamakawa stressed that "the key to creating and utilizing a truly useful Brain Lloyd vision" depends on avoiding the pitfalls and risks of abuse.
Explore new business opportunities in collaboration with the private sector
Yet the road ahead is not without challenges. For example, what do we mean by good brain health?
Mr. Yamakawa notes that "while of course this includes avoiding dementia and strokes, it encompasses much more. In talking to the scientific community, countless private companies, and individuals, they all affirm that a healthy brain is a brain that experiences positive expectations, has hopes and dreams, and exhibits creative impulses."We are thus considering how these dimensions can be made broadly available to the general public.
"The challenge of boosting function using brain science is sometimes referred to as the enhancement problem, and here too ethical issues are involved that are being discussed around the world. Going beyond these ethical considerations, we would like to be in the forefront in establishing new businesses based on the technology breakthroughs that we have achieve. I would particularly like to see Japan take a global leadership role in R&D and in the development of new services" (Yamakawa).
Aside from providing the foundation for new businesses, these technologies might also find a range of useful applications within existing companies. For example, they could help visualize the relationship between employee brain information pattern sand performance, evolve policies and measures that improve the quality of work, create procedures that match individuals with particular departments or types of work, and provide reference data creating a more dynamic organization.
"This program offers a way to maintain good brain health and contribute toward a more vibrant society in which people can live long active lives.We would be pleased if the proposed services would help not only to the elderly but people in the prime of life in their 40s and 50s. We are fortunate to live in a country where there are many MRI scanners available to support our research, not to mention a high level of brain information and world-class robotics research."Finally, concluding on an upbeat note, Mr. Yamakawa said that "by fully exploiting this wonderful environment, he hoped that Japan would take the lead in creating a robust brain information industry."