Contributing towards public safety and comfort through image and video analysis Public Safety Solutions from NEC
March 31, 2017
Preventing accidents and incidents by detecting abnormalities in human movements
IAPRO is a technology that has drawn considerable attention as an advanced video analysis and behavior detection system. The system focuses on the behaviors of the subject, and detects movements of humans, vehicles and physical objects at a high level of speed and accuracy. It is set to demonstrate its prowess not only in crime-prevention measures such as the detection of suspicious behaviors and unattended items in the environs of important facilities and hazardous areas, but also in safety measures for public areas, including people entering railway track areas from station platforms or objects falling onto the tracks, and detecting illegally parked vehicles in areas where parking is prohibited.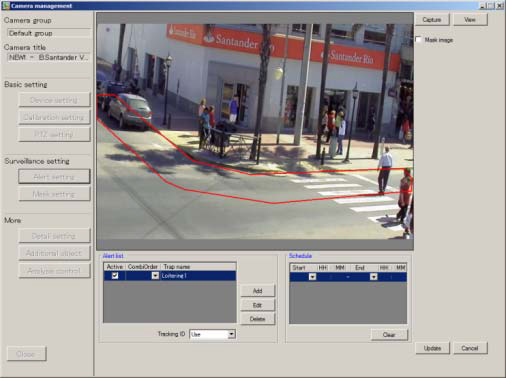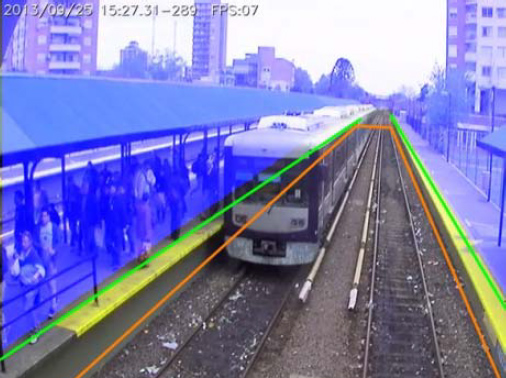 IAPRO screen image
A city surveillance system using this technology is now operating in the city of Tigre in Argentina. It is proving useful in various safety measures in the city, including detecting motorcycles ridden by two people (which are often connected to crime), helmetless motorcycle riders, and detecting suspicious behaviors and vehicles.
In addition, Crowd Behavior Analysis technology is also able to predict/forecast large-scale crowd behaviors in real time at a high level of accuracy by using security cameras. This revolutionary technology, the first of its kind in the world, can detect congestion and abnormal changes based on video footage of crowds. It quantitatively gauges congestion levels and flow patterns from crowds in congested environments packed with tens of thousands of people, and converts these into data with a high level of accuracy.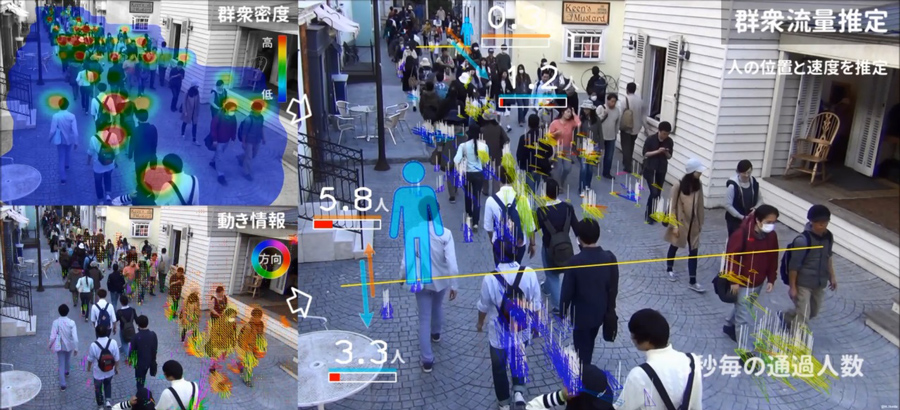 NEC worked in partnership with the National Police Agency during the duration of the G7 Ise-Shima Summit which was held in Mie Prefecture, Japan in May 2016, and carried out a test demonstration of an advanced security system using this technology in Tokyo. The system proved effective in preventing accidents and incidents before they could happen and enabling appropriate and efficient crowd direction to be provided in congested areas, making use of real-time detection of congestion levels and of suspicious unattended items.
Test demonstrations carried out at sports events with tens of thousands of spectators showed that the system was able to detect within a 20% margin of error the level of crowd congestion that could be expected 10 minutes in the future, which was essential for carrying out appropriate crowd direction in real time. In areas where people are crowded together, this system not only helps with alleviating congestion but can also help to discover accidents and incidents as quickly as possible by detecting abnormal movements which depart from normal behavior, such as "people gathering suddenly in a particular spot" or "people scattering in all directions."
Toshima Ward in Tokyo is making use of this technology to step up its disaster-prevention measures. In specific terms, the technology is being used to gauge congestion levels and visualize human behaviors in crowded areas, based on security camera footage around major stations and arterial roads. By using the technology to offer appropriate guidance and broadcast information when disasters such as earthquakes strike, Toshima Ward hopes to make progress with building "A safe and secure city" and "A city that's strong in the face of disaster."
The three technologies described above are at the practical application stage; NEC is also involved in further technological innovations. One example is NEC's efforts to boost the recognition accuracy of its technologies by bringing them together with NEC's Acoustic Event Detection Method, for which NEC won the No. 1 position in the Everyday Sound Detection Category at DCASE 2016, an international contest focusing on acoustic detection. Analyzing situations through sound as well as video footage will allow "what is going on now" to be gauged with an even higher level of accuracy.
In a globalizing world, the cross-border movements of people across different countries and regions are becoming ever more active. While this brings us a new world of business opportunities, it also means we face a growing risk of unforeseen incidents. How are we to ensure that our public places remain safe? There is a pressing need for appropriate policies in this area. By delivering innovative public safety solutions that bring together our advanced ICT with our wealth of knowledge, NEC hopes to contribute towards building a richer society that is safe and secure.