The Changing Role of Japanese Companies in a Global Society
September 04, 2017
What can Japanese companies do to make the world a better place? Mr. Toshio Arima, Chair of the Board of the Global Compact Network Japan, and Mr. Takayuki Morita, Executive Vice President and CGO (Chief Global Officer) at NEC Corporation, discussed how Japanese companies can contribute to the efforts to tackle global issues. Mr. Arima pointed out that Japanese companies' presence in the international arena is relatively weak compared to their Western counterparts for several reasons. Despite that, he believes that there are opportunities where they can exert their own strengths globally. According to Mr. Morita, this is possible by companies participating in global projects and creating social value by leveraging their capabilities.
The following are excerpts from their discussion, moderated by Ms. Lisa Kuwahara, a freelance anchor and a former NHK newscaster.
GCNJ's mission and the challenges of global companies
Kuwahara:
What is the mission of the Global Compact Network Japan (GCNJ)?
Arima:
The 1990s was said to be an era of "the light and dark sides of globalization," when problems arose as a result of the globalized economy. In response, the United Nations initiated the Global Compact in 1999, aiming to "give a human face to the global market." In order to lead companies in the right direction of addressing global challenges hand-in-hand with the UN, the GCNJ (the local UN Global Compact network in Tokyo) has the mission of promoting corporate social responsibility (CSR) in four key areas: human rights, labor, the environment, and anti-corruption.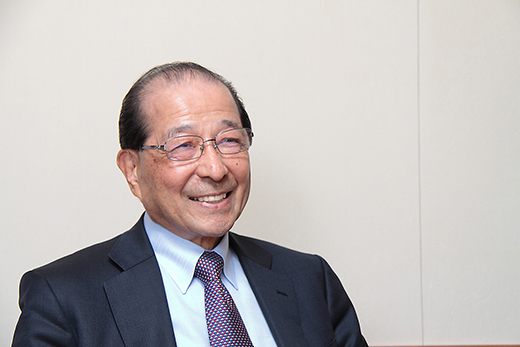 Kuwahara:
NEC is a member of the GCNJ. What do you think of the GCNJ's activities, Mr. Morita?
Morita:
Traditionally, CSR was perceived as companies contributing a portion of their profits to society; however, it has evolved to become the core of enterprise strategy, meaning any company's activities are an act of fulfillment of its responsibility towards society. I believe this is very positive. If the UN, governments, and private companies collaborate, they can have a much greater social impact.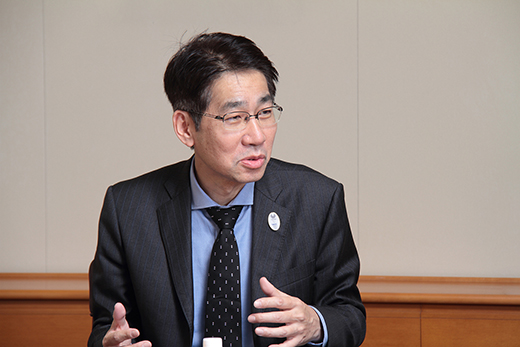 NEC's social solutions and global activities
Kuwahara:
SDGs (Sustainable Development Goals) were adopted in 2015 and heavily promoted by the UN. What is the GCNJ doing to achieve the SDGs?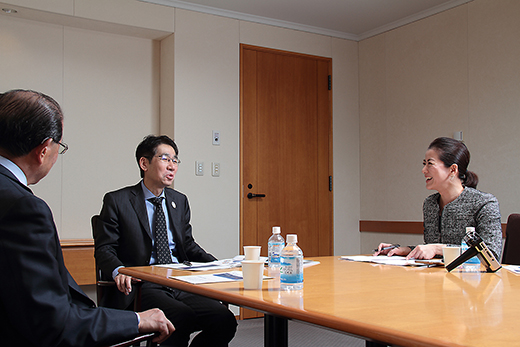 Arima:
Besides holding awareness campaigns, we also asked intellectuals and experts to discuss SDGs to deepen understanding of what needs to be done. We encourage companies to connect their CSR activities to the SDGs and in so doing, we determine how to achieve these goals in their true sense. We have compiled booklets to promote SDGs and are translating many case studies from around the world into Japanese.
Kuwahara:
NEC was selected as one of the "Global 100 Most Sustainable Corporations," following an announcement at the World Economic Forum held in Davos, Switzerland. Please tell us your basic stance on sustainability and some of the activities you're engaging in to this end?
Morita:
NEC is striving to realize social values in accordance with the four principles of safety, security, efficiency, and equality—all of which are essential to creating a more sustainable and secure society. We would like to contribute to society not only through collaborations with industry, academia, and government, but also through collaboration with other private companies.
NEC has initiated many activities through partnerships with international organizations. For example, in February 2016, we joined the pandemic supply chain project, a multi-stakeholder initiative led by the United Nations World Food Programme (WFP) as the first Asian company to take part in the initiative using ICT. The aim was to create the world's first supply chain information management platform for the transportation of supplies for medical aid and other types of supplies. On the ground, there were issues such as a lack of warehouse capacity and information about supply and demand, limited accessibility to the affected regions due to border closures, duplication of work, and inefficient aid efforts due to the lack of collaboration between public and private sectors. We aimed to solve these problems by using ICT to bring efficiency and visibility.
In Argentina and India, we are contributing to the prevention of crime by building a surveillance system combining identification and behavioral analysis technologies, both of which are strengths of NEC. For example, we can predict the likelihood of a crime occurring by using image recognition to plot a certain pattern of behavior, such as the frequent appearance of the same person in front of an ATM. There is data that shows that crimes in the areas we surveilled had decreased by 30–60 percent in India and Argentina.
Arima:
Indeed, those are remarkable achievements. The potential of IT seems to be limitless. It's a very promising business.
The role of Japanese companies in global society
Kuwahara:
How do you see Japanese companies in the international arena, Mr. Arima?
Arima:
People around the world regard Japanese companies as being very reliable, especially in the field of IT. But from the SDGs' perspective, the presence of Japanese companies is not as strong as that of European companies. European companies are relatively stronger in strategic planning and presentation skills.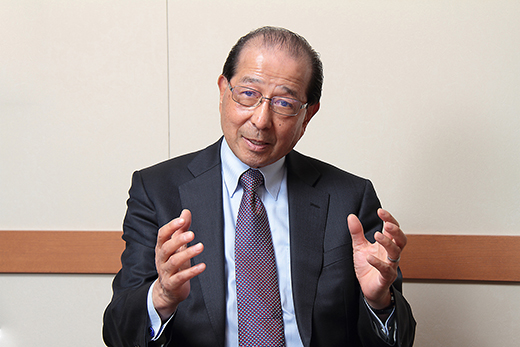 Kuwahara:
Japan remains one of the world's largest financial contributors to the UN. But it's said that Japan's footprint is not very large in terms of the number of UN workers or as a supplier of aid materials.
Arima:
Yes, indeed. The number of Japanese workers is small despite Japan's huge financial contribution to the UN. For one thing, there is the language barrier. Japanese people who can speak multiple languages are still rare. In addition, Japanese business leaders have not gained enough global experience compared with their European counterparts. Still, there have been internationally-respected CEOs such as the late Yotaro Kobayashi. Like Mr. Kobayashi, we can exert our own strengths globally.
Morita:
My understanding is that Japanese companies contribute just one or two percent of the goods supplied to the UN. UN workers and staffers are encouraging Japanese companies to participate proactively in project bids to promote diversity in the UN. This is applicable not only to Japanese companies but also to other Asian companies. International institutions such as the UN are open to diversity and are welcoming us. It's very important to participate more in international projects.
Other Japanese companies may well be able to focus on specific projects that reflect their own social values while strengthening their relations with international organizations such as the UN, just as NEC has done.
The role of global companies in the future
Kuwahara:
What do you see the role of global companies as, especially against the backdrop of global disorder/chaos?
Arima:
As in the case of the Paris Agreement, politics are blocking what is needed for society and the Earth. This is not only about environmental issues. When you think about the future of human beings, this will be a big challenge. Companies must think about how to respond to such issues.
Morita:
Collaboration between industry, academia, and government will be more important more than ever. It will be essential for those three groups to not only collaborate but to share ideas and come to an understanding. Government and industry need to be on the same page and look in the same direction, just as in the case of CSR and CSV. For example, if you think about CO₂ reduction, it will be more important to gain a mutual understanding that it will lead to revitalization of the whole industry in the medium- and long-term and ensure better living standards for citizens.
Kuwahara:
Listening to your discussion, I think the sustainability of the Earth and that of companies are compatible.
Arima:
Absolutely. In fact, even investors are starting to change. There is now a so-called environmental, social, and governance (ESG) investment, which focuses on how companies view the environment, society, and governance; in other words, how they view the Earth's sustainability.
Kuwahara:
Surely, we want to support companies that are mindful of the sustainability of the Earth, and we hope that they are successful and profitable. I think investors and consumers will pay increasing attention to business processes going forward.
Morita:
Being successful and fulfilling social responsibilities are vital for companies, as is reinvesting profits to provide much greater value. Companies that can achieve both will survive in the long run and become leaders.