Wireless IoT - The Manufacturing Solution
March 31, 2017
Testing based on the real needs of real factories
What make this project truly unique is that most of the tests are conducted not in laboratories but in actual functioning facilities operated by companies such as Mitsubishi Heavy Industries Machine Tool, Toyota Motor Corporation, and so on, based on the real needs of that plant and not on the hypothetical needs of a fictional entity.
"Each factory has specific needs that need to be achieved with IoT," elaborates Dr. Itaya. "We implement verification by building an experimental system according to those needs. That's the policy of this project."
For example, in one factory device A needs to be connected with device B. Or the cable connection between the devices needs to be changed over to wireless. In this case, a wireless communication test is conducted between A and B so that data can be collected and the results can be evaluated. For the past year, project members including Dr. Itaya have been carrying out this kind of routine testing — tough, unglamorous work that requires them to stick close to each factory for days at a time.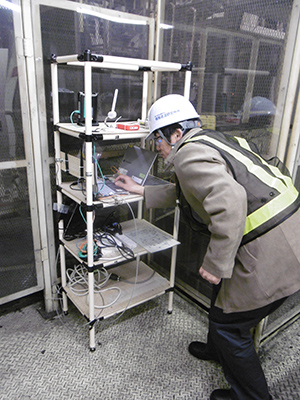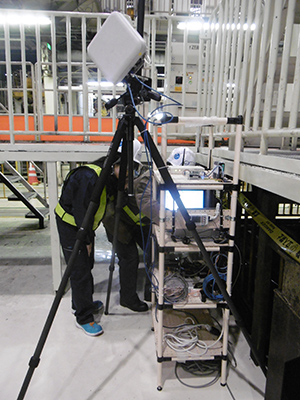 Wireless environment testing conducted in various factories
The biggest benefit of experimental verification tests is that they make it possible to obtain data based on the reality of a production site. It also makes it possible to create solutions that link directly to practical applications. Says Dr. Itaya proudly, "I think our method is very unique even if you look around the world. This project is exemplified by this on-site method in which we conduct live tests in numerous factories in order to gather hands-on data."
According to Dr. Itaya, on-site testing occasionally brings to light things that could not have been imagined otherwise. For instance, she points out that "wireless environments keep changing dynamically in factories where innumerable devices are operating and things and people move incessantly."
"It was clarified that there are some areas in the interior of a building where wireless is easy to connect and other areas where it's difficult to connect. But that's not the main thing. Those areas are changing every moment. Wireless connectivity also changes also depending on the scale of the factory and the layout of the facilities, as well as whether or not there are houses nearby. Frankly, it never occurred to me that the wireless environment could change so rapidly."
Prevention of crossed lines and sorting of data
The on-site verification experiments once have ended in March 2017. From April on, the project will enter the phase in which wireless system prototypes will be created based on the data that has been gathered so far and simulations of them will be performed in factories. The key to achieving this system is fabrication of mechanism that prevents innumerable wireless communications transmitted in a factory from being crossed and interfered with each other. That's precisely where the technological expertise and know-how of the participating companies are made good use.
Moreover, Dr. Itaya says that their original ideas would be used in the methods of data gathering by IoT.
"When IoT is introduced, it is likely that the attitude like, 'Let's keep all the data for the time being,' and that's not good. If you try to collect all of the large-amount data generated on a production site by wireless communication, the frequency bandwidths will soon be all occupied in no time. As a result, there will be devices that cannot be connected to wireless, possibly even causing the production line to be suspended."
The way to prevent such risk is installation of a gateway and build a mechanism in which data is sorted at that gateway.
"Which data is important and which data is not vary depending on the production site. We need to build intelligence that can transmit only necessary data to a cloud. From the viewpoint of analysis too, the mechanism of such data selection is indispensable."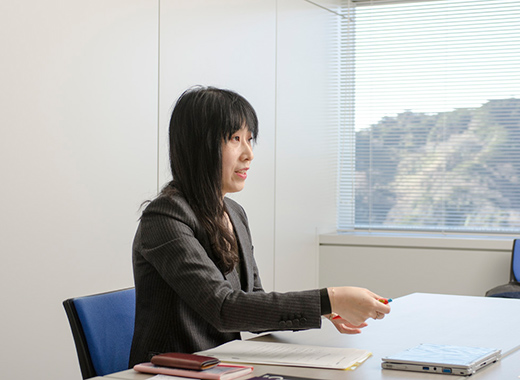 Building a system suitable for adoption worldwide
What this project is ultimately aiming for is the development of a universal wireless system that can be used in any factory in any industry. The next step is to consolidate the key technology, while the participating companies focus their capabilities. However, Dr. Itaya emphasizes that she has no intention of promoting it as technology developed in Japan or as a wireless standard originated in Japan.
"Although Japan is taking the lead in this, we are aiming to create a system that can be used in different countries and to cooperate with companies and standardization groups in countries around the world."
Here too "flexibility" is an important keyword. What is planned currently is a system specifically for manufacturing facilities. However, once the system has been realized, it may be possible to implement it in other types of facilities. Anywhere where multiple devices are operating in the same space — such as airports, ships, and hospitals — is a likely candidate for introduction of this system.
"Going forward, we will continue testing wireless systems in manufacturing plants. Hopefully, by 2020, we will have come up with a workable system ready for practical use."
The manufacturing industry was the driving force that propelled Japan's postwar economic growth. By the end of the 1980s, however, many Japanese manufacturers had begun moving their production bases overseas to take advantage of lower labor costs. The result was a gradual hollowing out of the domestic manufacturing industry. In recent years, growing opposition to this trend has led to demands to protect manufacturing in Japan — after all, the Japanese regard manufacturing as their forte. Equipping factories with wireless IoT capability will make it easier for Japanese manufacturers to maintain cost efficiency without abandoning Japan. And that makes what happens with this project even more important.